Megaupload founder Kim Dotcom has been legally embattled for almost two and a half years. Originally arrested during a raid on his mansion back in January 2012, he's been fighting his extradition from New Zealand ever since. In recent months however, he's won a few legal skirmishes, enough so that the movie studios and their lobby groups have started to worry. To try and keep the pressure up, both the RIAA and MPAA filed civil lawsuits against Dotcom and his co-defendants, but those suits have now been put on hold by a judge, giving Dotcom a little breathing room at least.
"Breaking: US Court just granted out motion for stay of all pending civil action by Hollywood against #Megaupload and myself," said Dotcom in a tweet.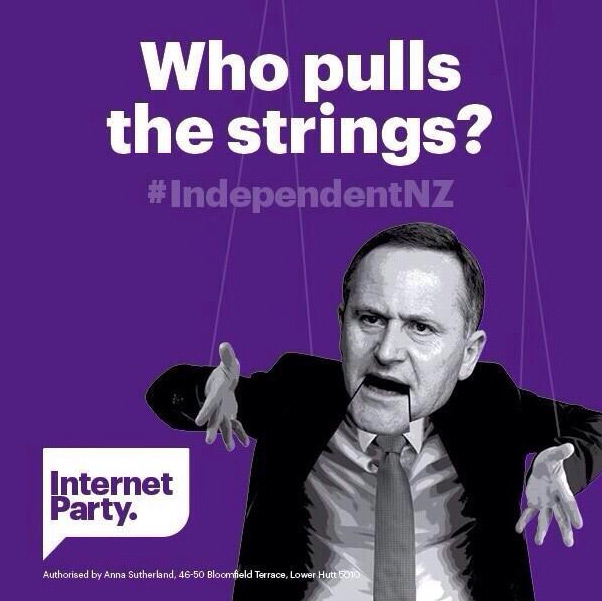 In the mean time, Dotcom is pushing his political party with ads attacking the current New Zealand PM
However, all is not rosey. While Dotcom's legal defence team has given him seven weeks of reprieve – with the civil suits set to resume on 1st August – the Judge that granted the stay did add some caveats. He said that the plaintiffs were legally able to serve notices to other defendants, should they exist. On top of that though, the judge gave the lobby groups free reign to go after Dotcom's assets around the world, which at the moment look likely to be unfrozen. Back in April the New Zealand high court denied an extension of the current confiscation order, though the government is now appealing the decision.
Dotcom also has assets overseas, including places where he used to live and operate part of his business from in Hong Kong. The hold on the civil suits doesn't prevent the lobby groups from trying to refreeze assets there or elsewhere in the world.
Discuss on our Facebook page, HERE.
KitGuru Says: It's amazing how much time, effort and no-doubt money has gone in to taking down Dotcom. I bet the lawyers are loving it.
[Thanks TorrentFreak]