If you've been reading this site for longer than a few months, then right now you might be thinking, "but Jon, didn't you do a story on Lindsey Lohan suing Rockstar in December last year?" Yes, yes I did, but it's only now, finally, that she's pulled her finger out and filed the legal documents necessary to get the ball rolling.
The suit states that Rockstar used Lohan's likeness and real life history to create one of the characters in the game, Lacey Jones, who it's claimed looks and sounds like Lohan. The character also finds herself trying to escape the paparazzi and living in the Chateua Marmont hotel, which Lohan did at one point herself.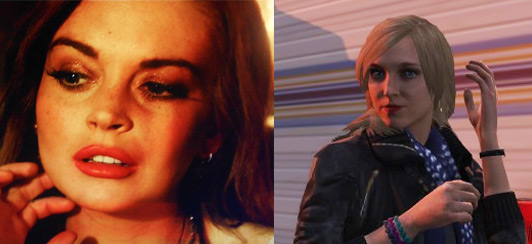 What do you guys think? Close or no?
The suit, which was filed in a Manhattan court yesterday, targets both GTA publisher Take-Two Interactive and developer Rockstar Games. Neither has released as statement on the matter as of yet.
This isn't the first time the companies have been sued over GTA V character likenesses. Earlier this year we heard how one of the cast of American reality show Mob Wives was suing over the fact she felt one of the characters in the game was inspired by her likeness. That suit is still pending.
Discuss on our Facebook page, HERE.
KitGuru Says: What do you guys think of likeness being used in games? As long as the name isn't used, it's going to be pretty hard to pin anything down right? Nothing wrong with a fictional character with similarities to a real life person. 
Image source: The Canyons, GTA V
Thanks AP