Anyone that's played the recent Magic the Gathering: Duels of the Planeswalkers games without much knowledge of the game's history, will no doubt have been surprised and even a little bored at the irrelevant story that surrounds the card game and is told to you in the form of swaying static images and voice over. But apparently there's a lot of lore behind the cards and that well is ripe for the tapping, at least in Hollywood's opinion, as it looks like MtG is getting it's own movie adaptation.
According to the Hollywood Reporter (via Eurogamer), the film rights have been secured by Fox and some key talent has already been acquired. Simone Kinberg, writer of the last few X-Men movies, the first Sherlock and Elysium is set to produce the film and will even work alongside Hasbro to oversee the continued development of what is expected to be – if it's successful – a series.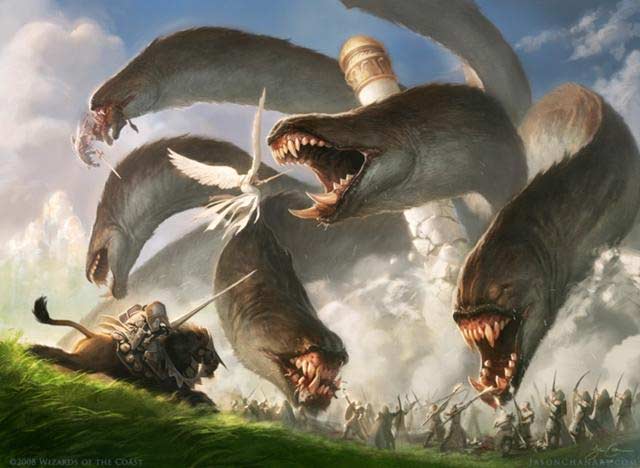 If the Apocalypse Hydra doesn't at least show its face(s) I'll be pissed
Executives are hoping that if leveraged right, MtG could be the latest big blockbuster franchise in the same vein as Harry Potter, delivering multiple movies and therefore spin off products like video games, toys and undoubtedly, more cards.
While the movies will be able to tap the game's lore up for content, those cards themselves could be interesting too. Many of them feature amazing artwork and the creatures some of them are based around are wonderfully fantastical – they'd look awesome in a feature film.
KitGuru Says: I'll undoubtedly see this, but I'm interested to see how they'll interpret the card playing aspect of the game into the lore. Will it even be mentioned? Perhaps some Magic experts can fill us in on the game's fluff.