Nintendo has responded to a campaign by some fans to have same-sex relationships included in its game, TomoDachi life, by apologising, but has said that at this stage, it would be impossible to implement the feature in a patch or DLC pack.
The game in question is Nintendo's take on the classic Sims idea. Using its branded "Miis" players are able to create lives for the little guys on their 3DS (currently in Japan only, but there are Western releases coming in June) allowing them to shop, work, play and ultimately, fall in love and get married. However some gamers complained when they discovered that there was no option for those of the same sex to enter into relationships with one another.
This led to the creation of a social-networking campaign by one 23 year old user, who wanted to marry his real life fiancé in the game, but found it impossible to do so. This he said, meant that there was a large body of content within the game which he was unable too experience.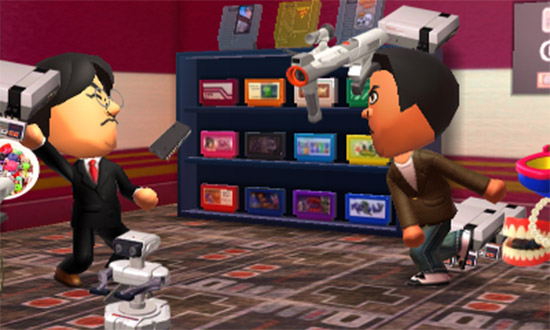 The ability to have a domestic however, is still included
Nintendo though, has said it won't be adding the feature, despite fan pressure, suggesting that it would simply be too difficult to retroactively add it at this stage. However, is has apologised for this and has made plans to include the ability for same-sex couples to get together and marry in future versions.
"We pledge that if we create a next instalment in the Tomodachi series, we will strive to design a game-play experience from the ground up that is more inclusive, and better represents all players," it said in a statement (via BBC).
Discuss this on our Facebook page, HERE.
KitGuru Says: The ironic thing with this story, is that the prequel to Tomodachi Life, Tomodachi Collection, included a "bug," which allowed two men to get married and have children, though it was eventually patched out.