As much as there is plenty going for virtual reality at the moment, there are many key experiences that the communities of fans have been clamouring for since the Oculus Rift DK1 was first unveiled: a fly through of a fridge, focused on garlic cheese spread isn't one of them. Still, that hasn't stopped multi-national French cheese marketer, Bel Group from releasing a rollercoaster-like fridge experience, focused on some of its cheeses and their ingredients.
"Enjoy the Boursin Sensorium virtual reality experience as you journey through a decadent fridge packed full of delicious foods and Boursin ingredients," reads the experience's Oculus Share page. "Sweep through the herb forest, duck beneath the towering vegetables, wind around giant bottles of bubbly, and dive into the cheese – we promise this is a journey like no other!"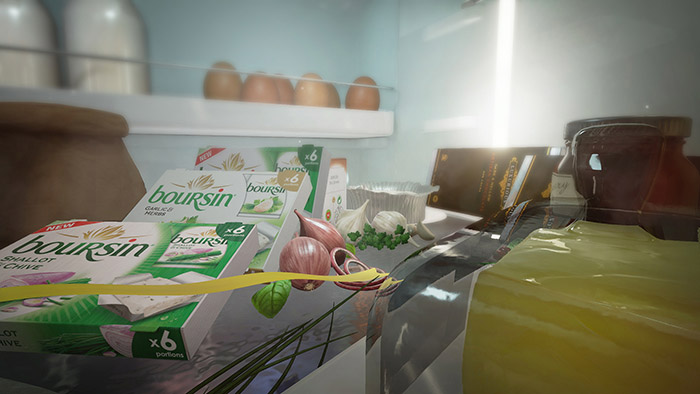 Although published by the Boursin brand, this experience was actually developed by Hammerhead VR, which was previously known for its early Undercurrent VR demo, which showed the potential for exciting exploration and mild horror in an underwater environment.
NB. This video is 360 degrees, so feel free to look around with your phone or the mouse.
[yframe url='http://www.youtube.com/watch?v=ti9JbdPKRDM']
From personal experience on my Oculus Rift DK2, I can say that the demo is surprisingly pretty. A lot of effort has gone into its creation, but beauty seems to be par for the course for most demos made with the use of the Unreal Engine 4. It's also not nausea inducing at all, so kudos to the developers.
The high texture quality does make this quite a hefty demo though, weighing in at just over 800MBs, despite being quite a short flyby.
Discuss on our Facebook page, HERE.
KitGuru Says: As much as there are some great experiences I want to have within virtual reality, I'm also looking forward to some of the weird and wonderful ones that others will think up. Are there any off the wall games or experiences you'd like to have in VR?