Amidst all the discussion over the past year about whether game review sites should even use a scoring system for titles, as many consider them too nuanced and incomparable to base it around a single X out of 10, one consensus was reached: that traditional review collating services don't work or are too easily manipulated. The idea behind OpenCritic is to fix that, letting users themselves choose which sites are compared as part of review aggregation, hopefully giving a better understanding of how good a game is.
Games have their own individual pages, with trailers, genre information, publication dates and a break down of their story or main content. Below all of that, the reviews are listed, with author names, previews of the content and links through to the full review. Site users can eliminate certain authors or sites from their aggregations, as well as filter by platform and sort by date/score.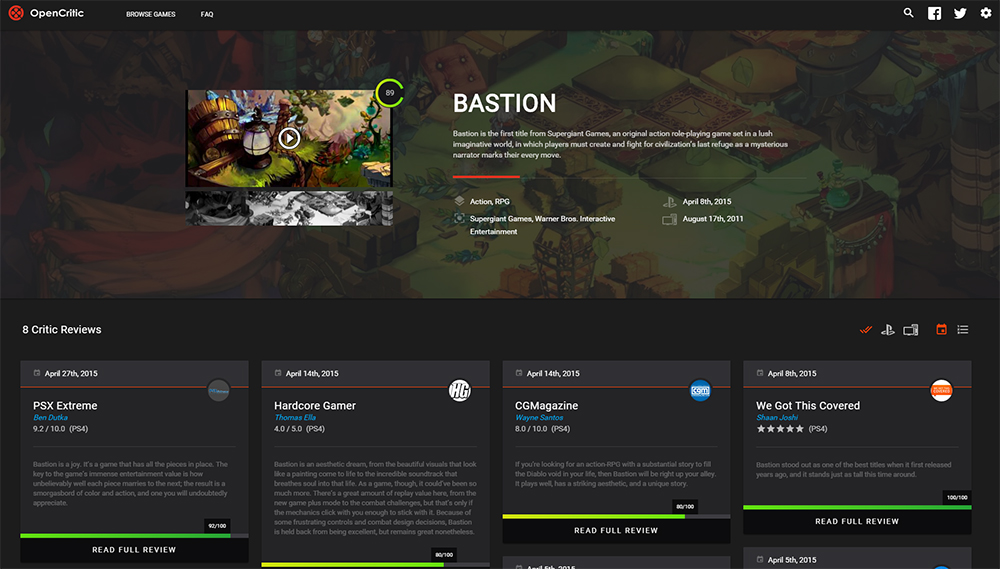 The site is clean, easily navigable and has a comfortable, contemporary feel
Some review sites that don't operate on a score scale are featured too, like Kotaku. In those instances, it's simple yes/no metric is used with an excerpt from the review and a link through to the full thing. As well as reviews of individual games, OpenCritic also bundles together its best reviewed titles in a hall of fame, as well as reviews of recent games and a number of upcoming games that are currently in the process of being tested.
Whether people like the style of this sort of site, it's certainly easier to navigate, read and feels much more polished than a lot of other aggregators.
Discuss on our Facebook page, HERE.
KitGuru Says: Do you guys have a few select sites you check for video game reviews? Or do you stick with checking user reviews on Steam?