In less than two days, the Humble Freedom Bundle has made close to $4 million and shows no sign of slowing. The $30 (£24) gaming bundle packs close to 50 games, including standouts like The Witness, Invisible Inc., Nuclear Throne and Octodad and benefits pro-immigrant charities. However it's so popular, that some game keys are starting to run out.
Humble Bundles have been around for a few years now, offering discounted games to many and helping to support various charities around the world. However with many other sources of affordable games these days, it's been a while since a bundle really captured people's attention and imagination. The Humble Freedom Bundle however, has arrived as a digital counterpoint to the recent U.S. immigration ban and has been incredibly successful.
In less than 36 hours, more than $3.8 million has been raised by the sale of more than 118,000 bundles. The average purchase price currently sits at $32.14, with several buyers paying over $1,000 and one as much as $3,000 to show their support.
However, if you haven't purchased it yet and want to do so, you should get to it sooner rather than later. Certain titles, like Subnautica and Monster Loves You! have sold out entirely, while Super Meat Boy has used up its pile of Steam keys – though DRM-free versions are still available.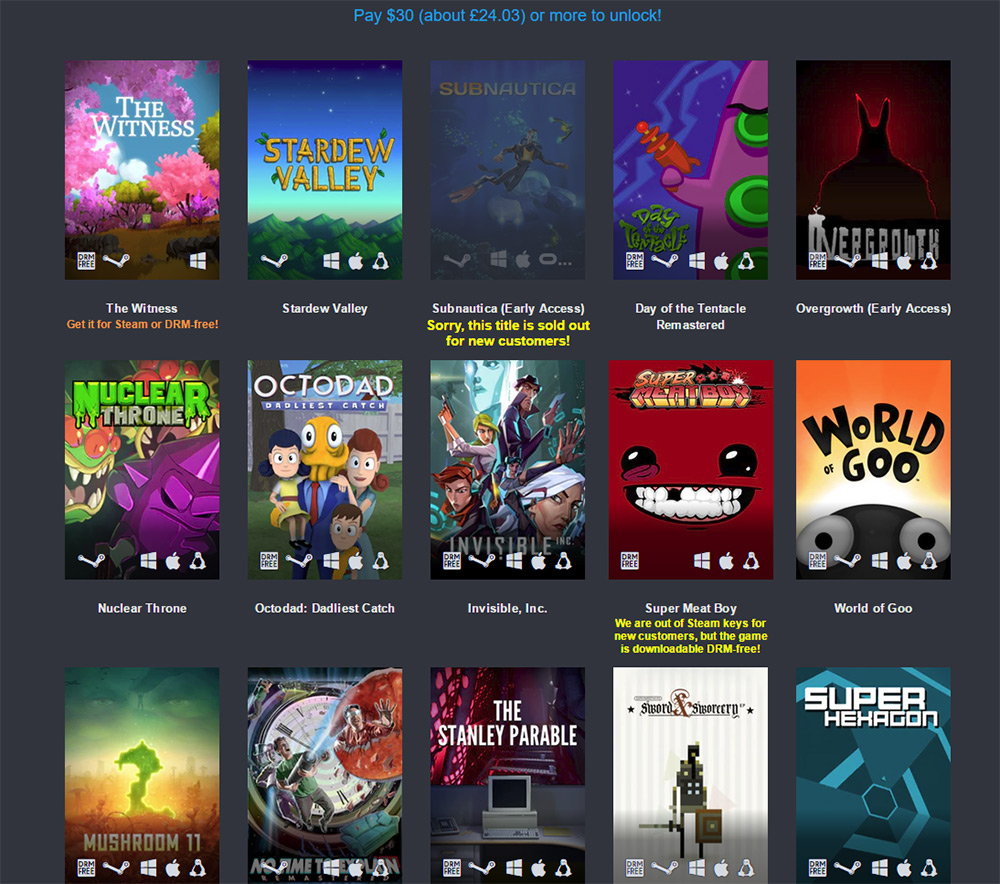 Just a handful of the games and books you get as part of the bundle
To make up for some games starting to run out, Humble Bundle has added two new titles to the lot: Ninja Pizza Girl and Robot Roller-Derby Disco Dodgeball.
As great as the games are though, what's important about this bundle, is that the games and books on offer don't generate any money for their creators. 100 per cent of payments go directly to the International Rescue Committee, Doctors Without Borders and the American Civil Liberties Union. The Humble Bundle company itself also pledged to match donations up to $300,000, so this bundle has generated a lot of financial support in no time at all. It seems likely to break all previous records.
"We humbly remember that the United States is a nation of immigrants, and we proudly stand with developers, authors, and charities that champion liberty and justice for all," the bundle's description reads, following a quote from an engraving on the Statue of Liberty about supporting the needy and destitute.
The bundle will run for another five and a half days and we may see more content added to it before concluding.
Discuss on our Facebook page, HERE.
KitGuru Says: There is a staggering amount of games and media included in this bundle. More than $600 worth according to the founders. How much would you pay for it all?
Updated 15/02/2017 with new game list, monetary total.