While anyone that was able to get in on the Evolve action this weekend for the Big Alpha will have run into some form of networking or matchmaking issues, nobody quite suffered like PlayStation 4 owners, who found their entire access to the event cut off due to server issues. With the Big Alpha weekend ended now, many had grown despondent, expecting not to play the game at all, but Turtle Rock has now extended the event for everyone, so PS4 players can finally get a chance to hunt and be hunted in turn.
Yes, while we were being hunted down like dogs by the lot of you, our brothers on the PS4 were struggling away, but as of this morning, Turtle Rock has opened up the alpha to them also. Unfortunately Japan is still missing out, but the developers claim to be trying to get that sorted as soon as possible.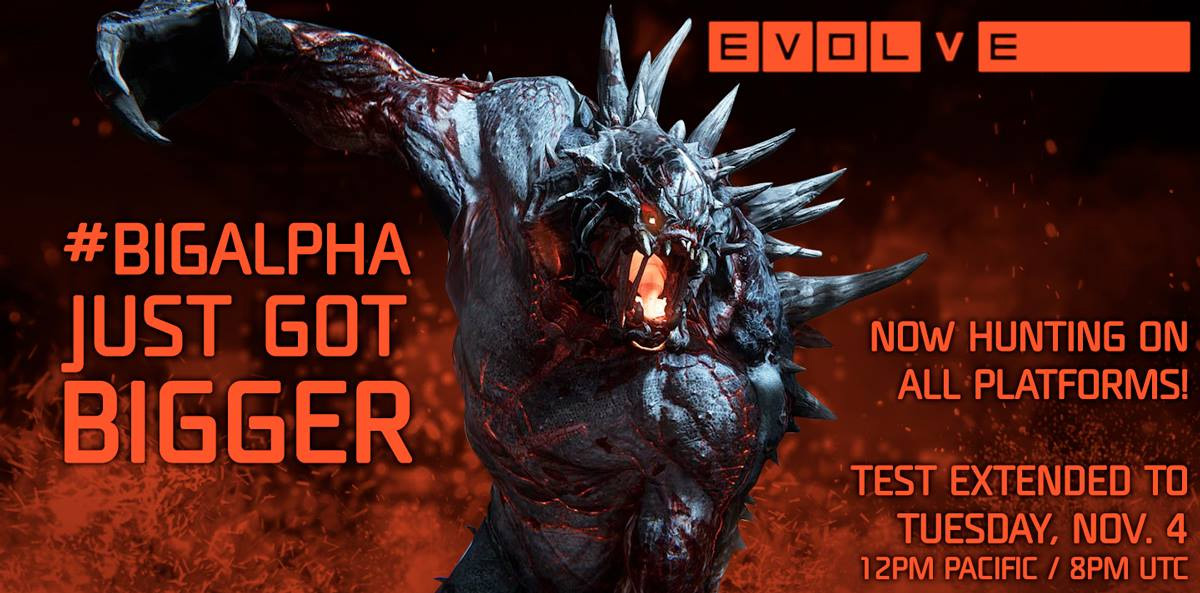 However the experience doesn't seem perfect just yet, as there are a lot of commenters on social networking platforms claiming crashes and endless matchmaking searchers. While the former isn't something we can do anything about – though Turtle Rock is hoping everyone experiencing them posts screenshots to the bug tracker forums – the latter might be, as I can't be the only one who found method or two to make it more likely to find a game.
The biggest tip would be to search for games by yourself. As the weekend has gone on and the experience has become more stable, searching by myself still helped me find the most games. Of course most of you probably want to hunt with friends, so at that point they can join you through your friend's list (hopefully). That said, I've also managed to bump into friends by both of us searching singly – the game sometimes just makes a new lobby for the group of you.
Another good way to get yourself in a game, is to spread your friendship net far and wide. With plenty of friends playing, chances are one of them will find a game that works and then you can join that one and get playing straight away.
One of the best ways to find some Evolve playing friends, is through thee KitGuru Steam group, where people have been sharing their gamer tags and Steam IDs all weekend.
Discuss on our Facebook page, HERE.
KitGuru Says: Thanks to everyone that hunted with us this weekend, we had a good time. With the Alpha extended we'll probably be up for a few more games, so keep your eyes peeled. We're looking for revenge.