Kevin Spacey has been a solid actor for a long time, performing well on stage, in movies and televisions shows with equal acclaim. However in the past few years he's shown up in some decidedly different roles, playing Frank Underwood on the Netflix original series, House of Cards and most recently as Jonathan Irons in Call of Duty: Advanced Warfare. He didn't fall into these roles though, they were strategically chosen and not because of the characters themselves, but because of the medium they appear in and in the manner they've been released.
"People thought I was crazy when I decided to move to London 11 years ago to start a new theatre company at the Old Vic, when I could have stayed over here and made movie after movie after movie," said Spacey, in an interview with The Guardian.
"Or when I decided to do a drama series with an online streaming company that had never done original content before. Or now, when I'm going to be an actor in a video game. This is an opportunity to do something that nobody had done, and also frankly to reach a new audience."
He knows this for a fact too, as despite featuring in some of the most acclaimed movies and shows in the past few decades, there were still many commenters on the original Advanced Wafare trailer asking just who the hell he was. Spacey just sees this as a challenge though, suggesting that if they like his character in CoD, maybe they'll like him in House of Cards.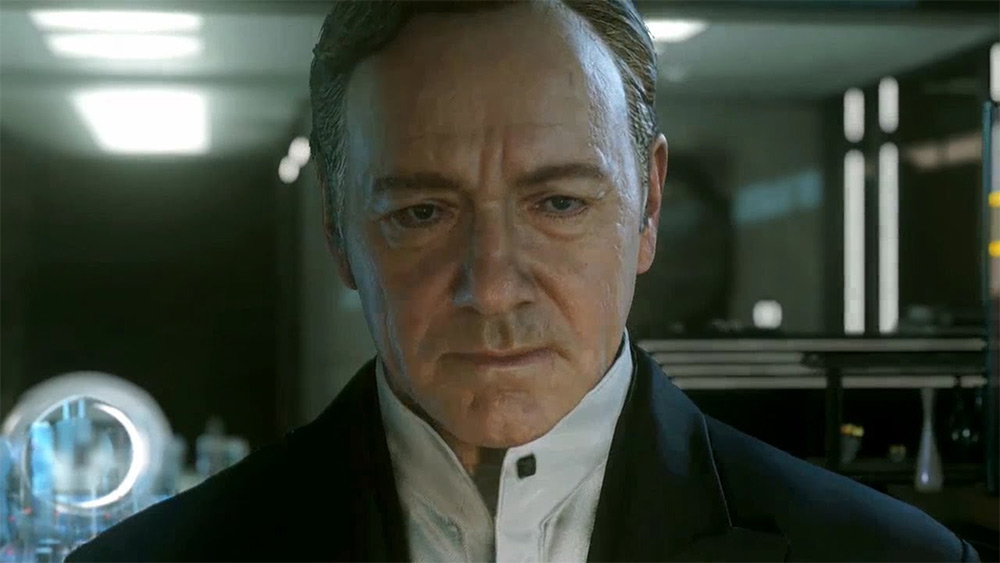 Of course games in general and specifically action driven games like Call of Duty, aren't particularly known for their storytelling. After the likes of The Last of Us and Beyond: Two Souls, received such praise however, it seems Activision may be hoping that it too can bring established actors to roles and achieve a heightened level of plot development.
Spacey seems confident that can happen too: "We're going through this remarkable period of time where two things are happening. The technology is advancing at such an incredibly rapid rate, and we're going through this remarkable period of incredible creativity," he said.
Ultimately, he said the same for his choice to work with Netflix: "Why did I end up doing House of Cards? Because the world of television, or now streaming, is the world in which more and more great writers and directors and stars are going to tell stories that are complex, diverse, with antihero characters. And the audiences are devouring it, and demanding that this kind of storytelling is what they want."
He even gives a nod to even more future avenues for actors, such as virtual reality roles and 3D, sounding excited whnn he says "imagine the places they can put actors, that they don't have to build."
Discuss on our Facebook page, HERE.
KitGuru Says: It will be interesting to see if Spacey's performance in CoD helps legitimise the medium for other mainstream actors. Perhaps we'll be seeing more familiar faces in games before long.