A lot of you have been playing Hearthstone for a while now, gradually figuring out the mechanics, the meta game and just what cards your opponent might be about to play to ruin your day. That no doubt means you're getting quite good, better than most in-fact and the stats back that up. If you can break into the top 15 ranks, you're already better than 75 per cent of the player base.
"Recently, we've seen some comments from our players that feel they are not performing well in Ranked Play compared to others, or disappointed by the fact that they haven't hit Legend rank. We're here to let you know that you're actually doing better than you think," said a Blizzard spokesperson.
According to a new chart released by Blizzard to show that even if you don't make Legendary rank, as most of us are wont to do, then you shouldn't beat yourself up too badly, as very few people make it there. Or at least, very few compared to other ranks.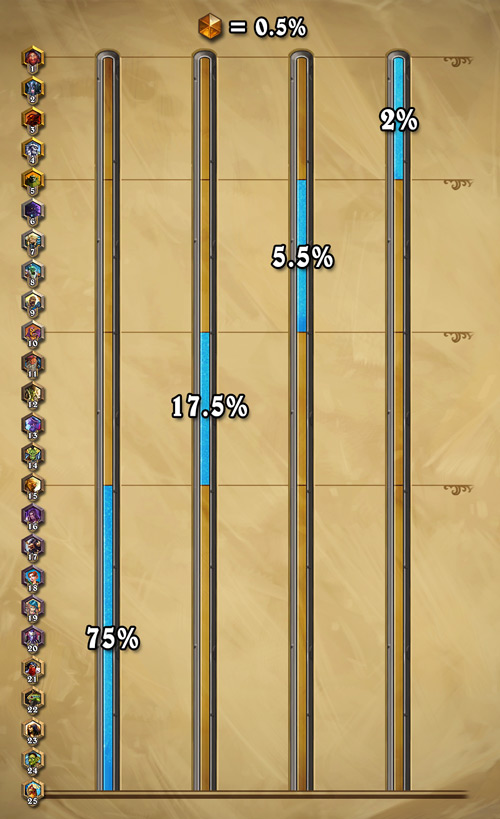 For example, if you're ranked somewhere between 15 and 10, then you're already in the top 25 per cent of all players. Only five and a half per cent of all players make it into the 10-5 rank range, with a miniscule two per cent conquering enough that they make it to ranks 5-1.
Legendary is an even smaller rank altogether, with just 0.5 per cent of all players reaching that coveted top spot and winning the monthly legendary card back to go with it. Of course with 20 million players, that still means 100,000 people are better than 99.5 per cent of other players, which seems like a crazy number.
KitGuru Says: And there was me feeling quite chuffed that I made it to rank 16… I need to tweak my decks some more.