Although there wasn't much in the way of a meta game or gamified purchase system in the recent Steam Winter Sale, there was an awards voting process that ran alongside it. The votes for those awards are now in, giving out uniquely blocky, digital trophies to a number of titles, for an array of fun reasons.
For example, the Villain Most in Need of a Hug award went to Portal 2, because of course poor GLaDOS needs some love. Euro Truck Simulator 2 received the "I Thought This Game was Cool Before it won an Award", award, while Skyrim still stands the "Test of Time," according to Steam user voting.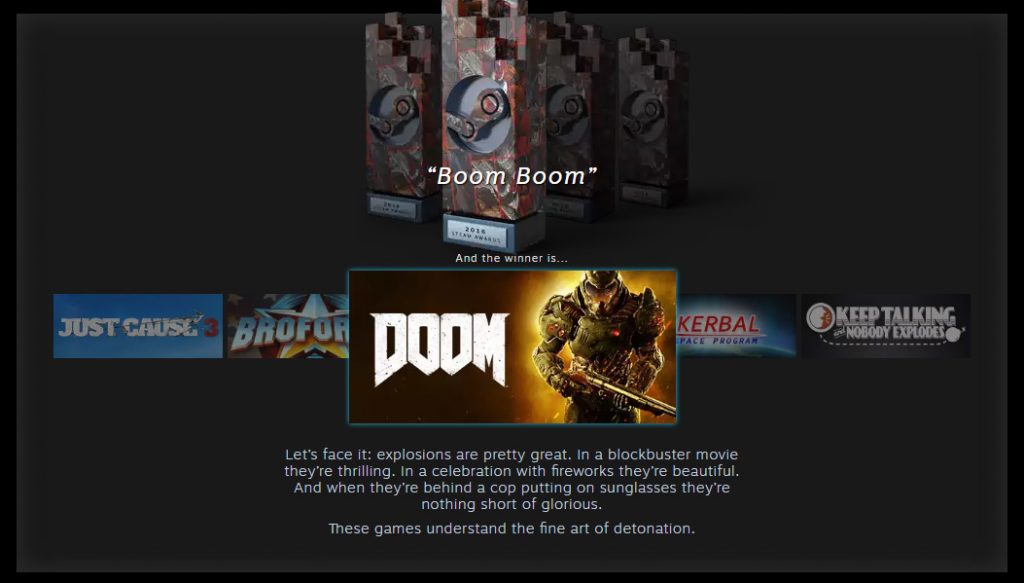 Although I might personally have given this one to KSP, DOOM is a valid choice too
Grand Theft Auto V walked away with two awards this year, taking home the Game Within a Game, award and the "Woooaahh Dude," award. It beat out hot competition from the likes of The Witcher III, DOOM, Stanley Parable and Bioshock Infinite to take home that special pairing. Rockstar must be very proud.
One noticeable trend among the winners of the various Steam awards, is that none of them are particularly recent releases. In fact, DOOM and Dark Souls III are the only ones that hit Steam in 2016 at all. Other winners like CS:GO, Left 4 Dead 2 and The Walking Dead have been around for a while.
Discuss on our Facebook page, HERE.
KitGuru Says: Were you happy with how the awards were eventually dolled out? Were there any undeserved winners in there?