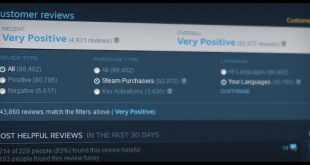 Following feedback from the community and developers, Valve has made changes to the way Steam's review system works once again. Although reviews from those who activated the game from a source other than Steam, still won't contribute to the game's rating, those reviews will now at least be easy to find.
For some developers the problem with Valve's system of completely discounting reviews from those who received a free key, purchased the game elsewhere or pre-ordered through Kickstarter, was that it meant any goodwill from outside of Steam was lost. With this new system, it's hoped that they can still contribute to a game's reception, just not its more obvious rating.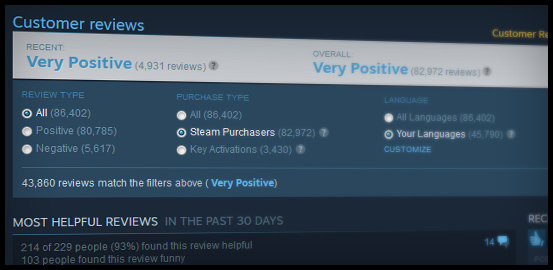 Of course for some this isn't a move that will go far enough. There are developers who have received the majority of their game's ratings from people who bought the game outside of Steam. Those early adopters can often be the most vocal and excited by a new game and therefore more positive. However that's the sort of early evangelicalism that Valve doesn't want to support.
It wants honest reviews of the game in its contemporary state and it wants them from people who were definitely not given a free key to review it – as those have a tendency to be biased towards the positive.
As Kotaku points out though, is is definitely a system change that has a lot of innocent blood on its hands. Valve has actively encouraged developers to build communities and followings outside of Steam to help make it through Greenlight and increase sales. To suddenly pull the rug out on that one must feel rather frustrating as a developer.
Discuss on our Facebook page, HERE.
KitGuru Says: Although it seems clear from the recent changes that Valve is looking to improve the lives of consumers over developers, it's a shame that in fixing the problems caused by a few unscrupulous individuals, some collateral damage is to be expected as things adjust.