The Stomping Land was a project that we've been quietly excited about for some time. It features an open world survival system where you tame and fight with dinosaurs. You can even ride them if you survive for long enough. It also recently released on Steam, so some of you have dived in to see what all the fuss is about and how the game is shaping up. Unfortunately, some of you have now gotten in touch to say that the game looks like it might be dead. One of you even suggested it might be an early access scam.
The developers involved with The Stomping Land have always been a quiet bunch. Since the original Kickstarter just over a year ago, the updates have been weeks and occasionally months apart. They've been there though, until recently, when things got eerily quiet. None of the social network accounts have been posted on since May and the official forum is filled with people raging about the lack of updates. All of this came to a head today however, when the PR manager for the game announced that his contract had actually ended when the Early Access version of the game hit Steam at the end of May.
"I should have elaborated more in my Monday post on why I am discontinuing the weekly updates," said GovernorOstritch on the official forums, referencing his announcement that going forward, he wouldn't be updating the community on what's going on. His most recent posts boiled down to saying that the game was being worked on but he couldn't talk about it.
"I will no longer be handling the PR for The Stomping Land. I work as a contractor/freelancer and I have been under no obligation to do work for The Stomping Land since May 31 when my contract expired. It has been my desire to see this game succeed and so I've continued acting in this capacity while I pursue other ventures when time permits. "
Ultimately, he said that he didn't want to "string the community along," when he had nothing to report on the game's status.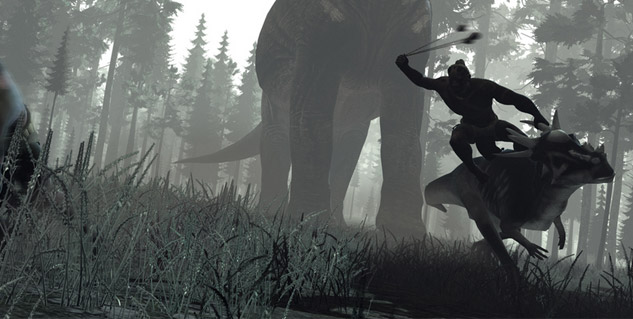 Did somebody hit the developers with their bolas? You know they can't get out yet, right? That feature hasn't been added yet.
The problem with the community as it stands, is no one knows what's going on. Early access reviews of the game haven't been favourable, as there's a lot of missing content at the moment, with a lot still to do. Even the game is being updated, it's not clear when it will happen or what's going on as communication with the community has completely halted.
The worry from those that remain fans of it, is that by the time the next update rolls around or dare I say it, the game is actually released, no-one will care anymore.
The only notification that something is being done with the game, is that the sound development is still ongoing, as this was posted on Youtube a couple of days ago.
KitGuru Says: Have any of you been playing around with the early access version? Considering it's £19 in such an early stage, it seems like many people simply feel ripped off.