The Behemoth, the team behind Newgrounds, Alien Hominid, Castle Crashers and Battleblock Theatre, has announced that it's time for something new. A new game, called – for now – "Game 4" and as you might expect coming from a company with a giant chicken as its logo, it's suitably weird.
According to the release, it's a new genre of game not explored by The Behemoth before. It's not entirely clear from the minute or so teaser what that genre is, but while retaining the same art style as old-school Flash classics like Dad n' Me, and the voice over artist that made those awesome wooshing sounds during the Battleblock Theatre introduction storm, this game seems more violent and moody than the last few games we've seen come out of The Behemoth's collective psyche.
[yframe url='http://www.youtube.com/watch?v=y5A-W7QvFRQ']
Whatever it is though, the Behemoth is very "proud of," it and plans to show it off at PAX Prime (29th August to 1st September), in playable form. This might seem early, considering the initial debut has just taken place, but The Behemoth has actually been working on this since the release of Battleblock Theatre, way back in April 2013.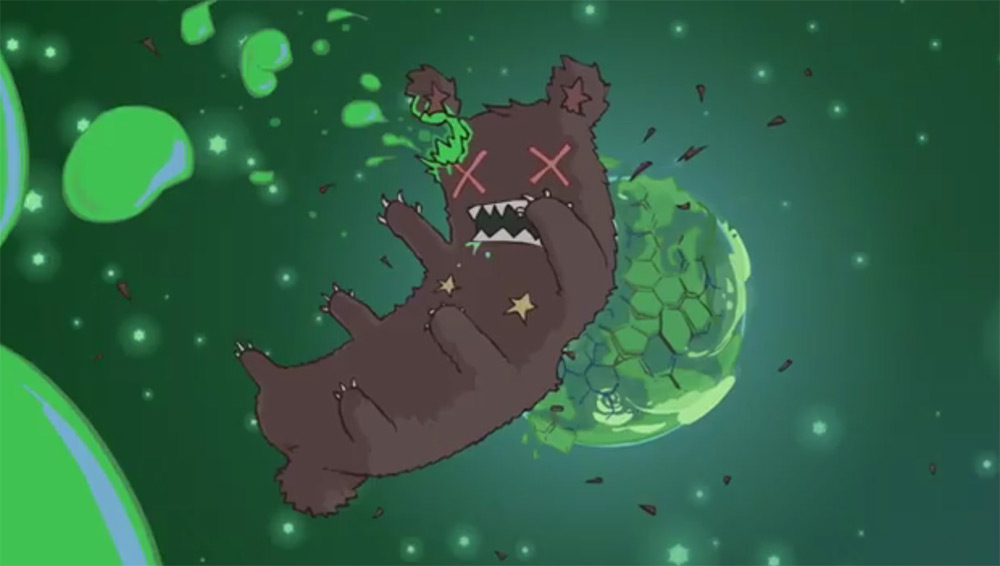 "What was life like, before the bear?"
Some have commented that the hexagonal grid pattern that appears in a few places in the video suggests that Game 4 is a turn based strategy title.
KitGuru Says: What do you guys think?