With the HTC Vive and Oculus Rift VR headsets now having a few months under their belts to settle down in the wild, there's a lot of new VR content to enjoy. Valve wants to help those who've fallen out of love with VR, or just gotten into it, with a chance to try some of these new experiences on a budget, with a giant VR sale.
All in there are close to 200 virtual reality enabled games and experiences now available as part of the VR Weekend Sale, each with a discount ranging from 10 per cent through to 80 per cent in a few select cases. Not all of the titles up for grabs are amazing, but there's something in there for everyone.
There are also some of the VR industry's earliest stand out titles available at a discounted rate. Games like Hover Junkers, Holopoint, Audioshield, Tabletop Simulator, Call of the Starseed, all available with a few pounds off to make them easier to pick up.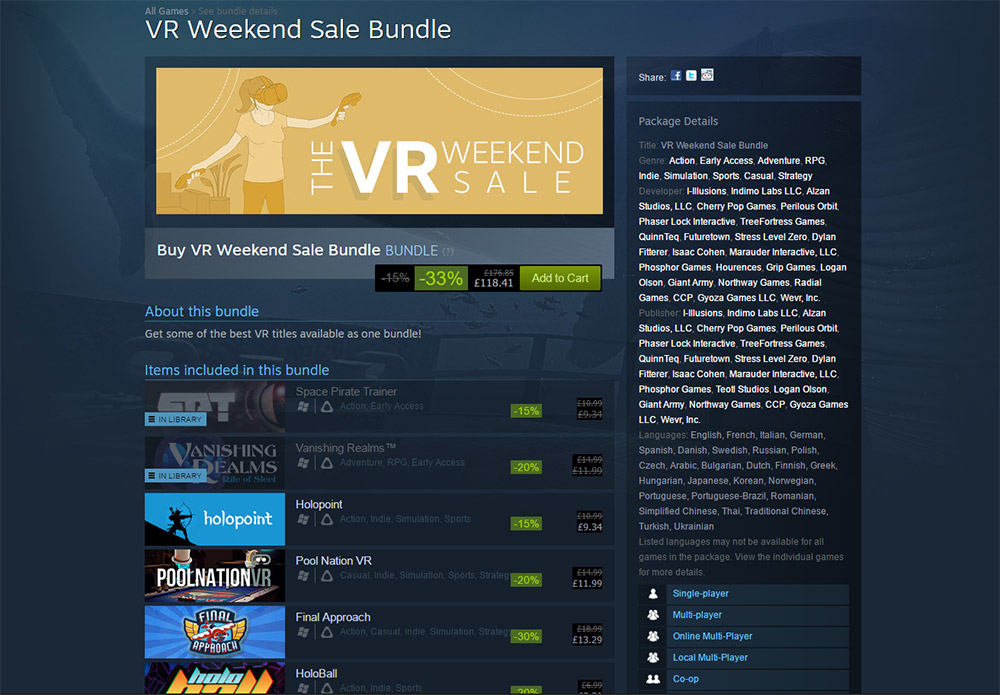 If you don't want to mess around though and just want to flesh out your library with some of the best VR games available, then the VR Weekend Sale Bundle might be a good choice. It is somewhat pricey, coming in at £187 for those who don't own any of them, or at a further discount if you do own a few of the games already.
However as expensive as the bundle is, you get games like the above mentioned Hover Junkers, theBlu, Universe Sandbox 2, Fantastic Contraption, Inbound, The Solus Project, Cloudlands VR MiniGolf and many more.
The sale runs throughout this weekend, ending at 3PM GMT on Monday.
Discuss on our Facebook page, HERE.
KitGuru Says: I think I'll be taking advantage of a few of these. There's a good few games that have released since I did my big reviews, so it's probably time I investigated what the latest VR offerings are like. 
Would you guys be interested in me playtesting and doing mini-reviews of any games on the list?