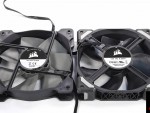 Corsair has employed some nifty technology in its new range of ML fans however we have to be careful with the name. The bearings that support the rotors on the motors use Magnetic Levitation but this is not shortened to Maglev (like the famous trains) as that is a trademarked term so we either have to say Magnetic Levitation or take the easy route and call them ML.
Corsair is excited about ML as it allows the fans to spin much faster than normal. Where we typically expect a 120mm/140mm fan to max out at 1,400rpm-1,600rpm, in the case of ML120 the range is 400rpm-2,400rpm and for ML140 the figures are 400rpm-2,000rpm.
Watch via our VIMEO Channel (Below) or over on YouTube at 1080p60 HERE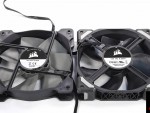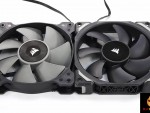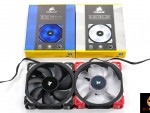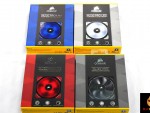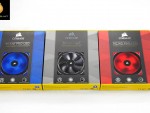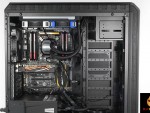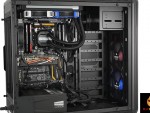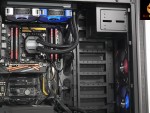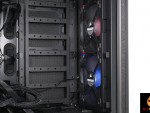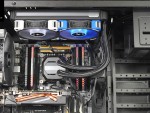 Specification:
ML120 Pro LED
Fan Size 120mm x 25mm
Speed 400 – 2,400 RPM
Flow Type Static Pressure
PWM Control Yes
Airflow 12 – 75 CFM
Static Pressure 0.2 – 4.2 mm H20
Sound Level 16 – 37 dBA
Power Draw 0.299 A
Warranty Five years
ML140 Pro LED
Fan Size 140mm x 25mm
Speed 400 – 2,000 RPM
Flow Type Static Pressure
PWM Control Yes
Airflow 20 – 97 CFM
Static Pressure 0.2 – 3.0 mm H20
Sound Level 16 – 37 dBA
Power Draw 0.276 A
Warranty Five years
As we explain in our video the range of ML fans has a number of options in both 120mm and 140mm sizes. You can buy a twin pack of basic ML fans in black without LEDs, however we didn't get samples of those and cannot comment on their features or performance.
Next you get the Pro model in black and for an extra £1 or £2 you can have an LED model in red, white or blue. The hard rubbers corners of the fan are colour coordinated with the lighting which is provided by four LEDs in the central hub. Previous models of Corsair LED fan had the lighting mounted in the outer ring, outboard of the rotor tips and the result could be quite unsatisfactory.
In the case of the ML fans the changes go far beyond the location of the LEDs as the frame uses a different construction that feels considerably more sturdy and rigid than previous fans, the motor support is a different shape and there is a pronounced radius where the air flow leads towards the rotor tips. ML is a hybrid fan that can replace either the AF (Air Flow) type of thin bladed case fan or the SP (Static Pressure) type with wide blades that is typically mounted on a radiator.
Each fan has a 60cm cable with a 4-pin plug and requires 12V PWM power to function correctly. In the package you will find four mounting screws and two tiny cable ties that help to keep things tidy.
Testing
Test System:
Processor: Intel Core i7-5820K
Motherboard: Gigabyte X99-UD4
Case: be quiet! Dark Base 900
Memory: 32GB Corsair Vengeance LED DDR4-3200Hz RAM
Graphics card: Sapphire ITX Compact R9 285 4GB
Power supply: Seasonic Prime Titanium 750W
Storage drives: OCZ Vector 180 SSD
OS: 64-bit Windows 10
Corsair was adamant that we should test ML using Intel LGA2011-3 as the mainstream LGA115x is less efficient and responds less well to changes in cooling. We entirely agree with this assessment and if you are serious about cooling and are not yet using LGA2011-3 consider that you are pretty much wasting your time.
We ran through a number of set-ups to test the 120mm and 140mm fans. The first was a 240mm Corsair H100i v2 cooler with the stock SP120L fans that were then replaced with ML120 Pro LED. We used the Core i7 5820K at stock clocks (3.3GHz Turbo-ing to 3.6GHz) and also overclocked to 4.3GHz. We used the Corsair Link software to first run the Fans in Quiet mode and then switched to Performance mode.
For the 140mm fans we used a 280mm NZXT Kraken X61 cooler with stock FX140 v2 fans and then switched to ML140 Pro LED. Again we used Quiet and Performance modes (this time with NZXT CAM software) and also used stock and overclocked CPU speeds.
You can download our full XL Sheet of test results HERE.
Cooling performance
The idle power draw of our test system at the wall socket was a mere 65W
At stock Turbo speed of 3.6GHz with the CPU under high load the draw is 145W/150W.
When we overclocked to 4.3GHz, and with the CPU under load, the power draw is 230W/235W
The stock Corsair SP120L fans run at 800rpm in Quiet mode and 2,100rpm in Performance mode while the ML120 fans operate at 1,000rpm and 1,800rpm respectively.
With the larger Kraken X61 cooler the NZXT FX140 fans operate at 900rpm and 1,600rpm while the ML140s run at 600rpm and 1,400rpm.
This may sound like we're not comparing apples with apples however the logical way to use these fans is to plug them in and set the control software or BIOS to manage the business, which means they are likely to operate 200rpm or so slower than your existing fans. It may not be immediately apparent in our video but both coolers were very quiet in Quiet mode regardless of the fans that were employed.
By contrast in Performance mode the coolers were intolerably noisy, even with the glass side panel installed on the be quiet! Dark Base 900 case and it has to be made clear the be quiet! case lives up to its name and is very quiet. This highlights the point we make in the video which is that it is all well and good to improve the technology used in the bearings in a fan but when you crank up the speed and start shifting air it is going to get noisy.
We could drone on about temperatures all day long however it makes life easier if we cut to the chase with a summary. Ambient temperatures during testing were stable at 25-27 degrees so we'll talk absolute figures rather than Delta.
Our Core i7-5820K idles at 35-40 degrees with the H100i cooler and 30 degrees with the Kraken X61.
Under load at stock speed the H100i temperature is 60 degrees with the SP120L fans in Quiet mode and 51 degrees with ML120. In Performance mode both fans gave a temperature of 50 degrees.
When the Core i7 is overclocked the gap between SP120L and ML120 shrinks to 3-5 degrees in favour of the new ML fans.
Changing to the large Kraken X61 cooler reduces temperatures considerably and shows the stock FX140 v2 fans are pretty darn good. Idle temperature is 30 degrees rising to 45 degrees under load at stock clocks. Performance mode is worth 2 degrees with the NZXT fans and 5 degrees with ML140. When the Core i7 was overclocked and loaded up the temperature rose to 65 degrees in Quiet mode and 60 degrees in Performance mode. The NZXT fans outperformed ML140 by a couple of degrees.
When we overclocked the Core i7 and compared ML120 with ML140 we saw 5 degrees benefit from the large fans in both Quiet and Performance modes.
Cooling conclusions:
When you run Core i7 at stock clocks a 280mm radiator drops temperatures close to ambient and saves you 10 degrees over a 240mm cooler.
This may be counter-intuitive but when you overclock Core i7 the benefit offered by the 280mm cooler is only 5 degrees better than the 240mm cooler.
Quiet mode costs you less than 5 degrees, regardless of the cooler or fans, so the extra noise of Performance mode makes it pointless.
Corsair SP120L are not very effective, ML120 and ML140 work well and NZXT FX140 v2 are surprisingly good.
Acoustics performance.
In Quiet mode all of the fans we used were near silent. In Performance mode they were all unacceptable.
Closing thoughts
Corsair ML fans do not change the world, however they are an interesting move. The new magnetic levitation bearings are an irrelevance to us, although they make a neat hook for marketing purposes.
The design of the fans is good and the use of a hybrid design that can replace SP and AF models is welcome. The styling, construction, colours, airflow and LED layout all work well. In an ideal world Corsair would upgrade H100i and H110i with the new ML fans and life would be generally improved.
We can hope this might happen but honestly have no idea whether this is on the cards.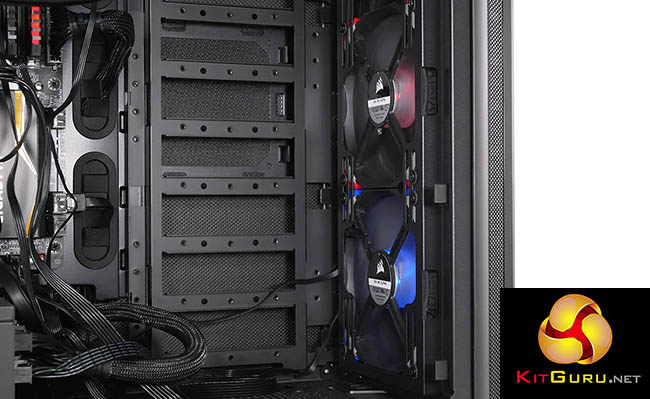 If you approach ML from a negative point of view where you swap out three case fans and two radiator fans with new ML models you will spend about £100 and will see very little tangible benefit.
We would be happy to spend £40 to upgrade a liquid cooling set-up with some funky LED lighting but if it was our own cash we would not entertain the idea of swapping out the Silent Wings 3 fans in the Dark Base 900 case for ML.

You can buy the full range of Corsair ML fans direct from Overclockers UK HERE.
Pros:
Hybrid design works well anywhere inside your PC.
Choice of red, white or blue LEDs or plain black.
Four LEDs in the central hub look good.
Low operating speed in Quiet mode is near-silent.
Replacement rubber corners will be available so you can customise your fans.
Option of very high speed if you feel the need.
You can tell your friends you now own magnetic levitation technology.
Cons:
Fans require 12V PWM to give full torque.
Relatively expensive.
Noisy at high speed.
KitGuru says: Corsair ML fans use a hybrid design that delivers the goods.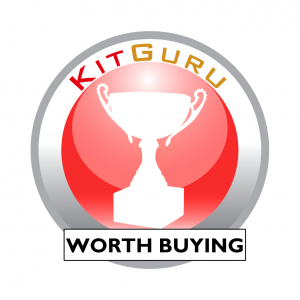 Be sure to check out our sponsors store EKWB here