The Wii U is doing a lot better than it once was, thanks to a year of much stronger game releases, headed by the always fun – and soon to be updated with DLC – Mario Kart 8. However Nintendo isn't just pushing big, first party releases on its current flagship platform, but indies too. With the IndieCade festival beginning today, it's going to spend some time this weekend talking about the upcoming indie developed titles that will feature on the Wii U in the near future.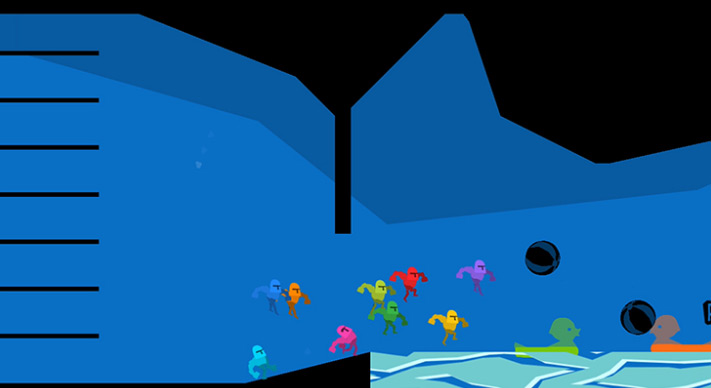 Runbow: Nine player local play? Yes please
BeatBuddy, the action-adventure from THREAKS, is making its way to the platform, bringing with it puzzling and action sequences. As is Costume Quest 2, the recently released sequel to the costume collecting and bad guy bashing original.
[yframe url='http://www.youtube.com/watch?v=UhEOZPzoAIc']
Adventure, puzzler The Fall will make an appearance too, giving players a chance to take on the role of ARID, the artificial intelligence controlling an unconscious man's space suit. The well received Shovel Knight will also show up on the Wii U before long.
Along with all of these multi-platform titles, the Wii U is also getting a good number of exclusives. These include, the sidescrolling 2D strategy sequel, Swords and Soldiers II; puzzler-platformer sequel, Stealth Inc. 2; Runbow, which pits up to nine players against each other in a local race to the finish; Sportsball where up to four players ride exotic birds and try and knock and dunk balls into hoops and Affordable Space Adventures, where players use the gamepad as a spaceship cockpit. Up to three players can team up to crew a single ship in cooperatve play.
Discuss on our Facebook page, HERE.
KitGuru Says: There's a number of indie games there that I'm pretty excited for them coming to the Wii U. I've already enjoyed Trine 2, Guacamelee and Steamworld Dig on the gamepad. Some of these looks just as good. 
[Thanks WiiUDaily]