With the Witcher 3: Wild Hunt set to release worldwide in just under a month's time, many people are keen to get every glimpse of it that they can. With more than eight minutes of footage posted up on the Xbox One channel on Youtube, everyone's  a winner, but it's worth noting that the reason it looks so good, is because it's from the PC version of the game.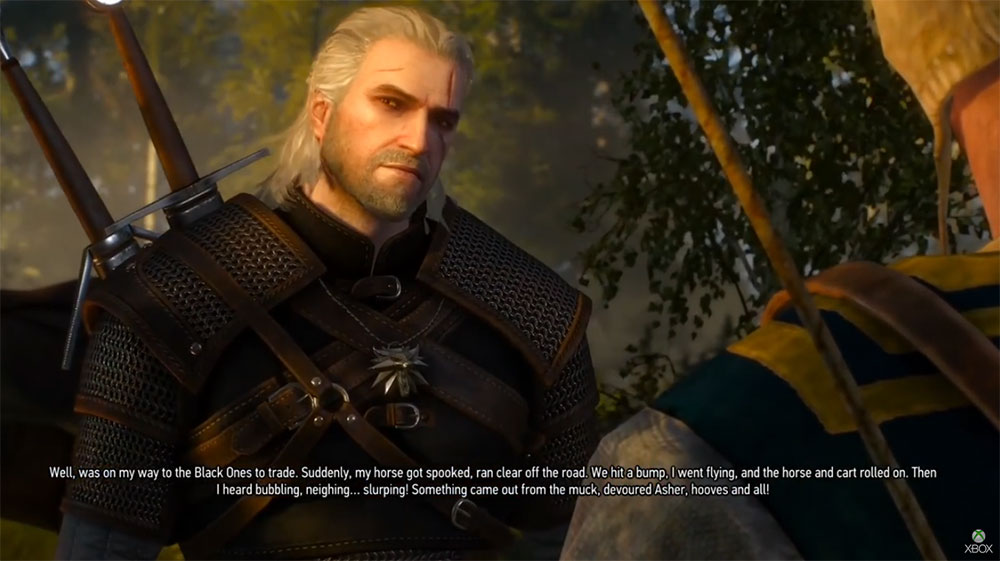 I think Geralt just smelt some bulls***
It seems unlikely that this is any sort of deliberate deception, as Microsoft mentions in the video's description that that's what's being shown, but you would imagine Xbox footage would be shown on the Xbox channel. Still, it's not entirely uncommon for companies to use footage from the PC version to help sell a game, since it invariably is the best platform for showcasing graphical effects.
[yframe url='http://www.youtube.com/watch?v=KrXxdy9Qgpk']
Whatever the intention, the footage shows our protagonist, Geralt the Witcher, travelling through the countryside during the prologue portion of the game. As a way of introducing questing and Geralt's gravelly voice, he meets a man who has had some trouble with a menacing beast at a nearby swamp, which supposedly ate his horse. Since the man didn't see it happen, you'd be right to be sceptical.
If you'd rather wait until the final game is released to find out just what took the man's horse, perhaps skip over this clip after the first minute or so, but for those that don't care about some minor spoilers, plough on in and enjoy the high resolution, high frame rate version of the upcoming RPG.
KitGuru Says: I'm still planning to finish up the first Witcher and take a stab at the second before I have a go at this one. I have enough time to get that done, right?