CD Projekt Red are still tight-lipped on the second expansion for The Witcher 3 but if current rumours are anything to go by, it is set to come out in June. While we are still waiting on some official confirmation, the box art for the physical version of the game has appeared online and much like with Heart of Stone, the boxed version of Blood and Wine will come with two Gwent card decks.
So far, all we know about the expansion is that it will feature a new playable game area and that it will take players around 20 hours to beat the new quests. Earlier today, this image appeared online showing off the PS4 box art for the game: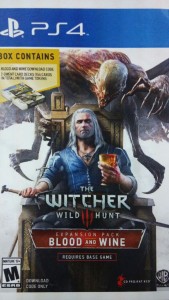 However, following on from this, CD Projekt Red shared the official box art for the game to give everyone a better look:
The artwork doesn't give much away about the game but the flying demon leaning over Geralt appears to be new. This is the first time CD Projekt Red has shared anything official in a while so hopefully we aren't too far off a release date announcement.
KitGuru Says: As a huge fan of The Witcher 3, I have been looking forward to Blood and Wine for some time. However, it would be nice to get some official word on when to expect its release.