Grand Theft Auto V PC will no longer be arriving on the 24th of March, it will instead be launching on the 14th of April, Rockstar has confirmed. However, those of you who own the console version do have a release date for Heists on GTA Online.
Rockstar said that the Grand Theft Auto V PC release date had to be pushed back another couple of weeks in order to ensure that Heists for GTA Online had a steady roll out on the 10th of March, which is a shame but at least Rockstar is being completely honest about it.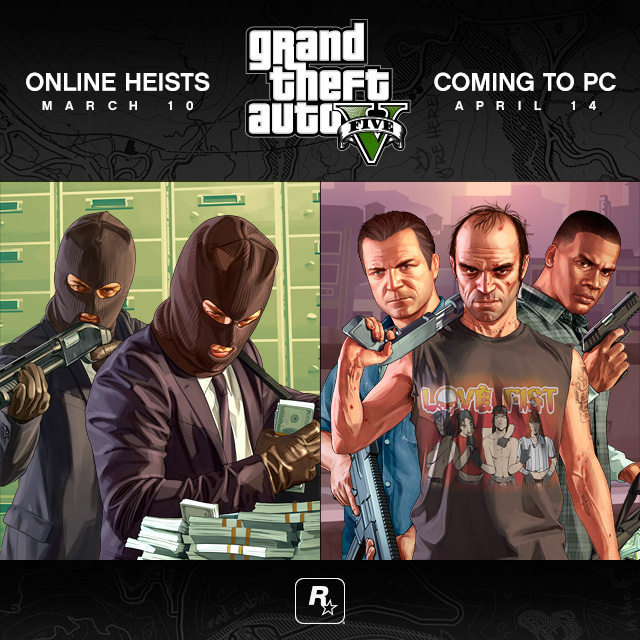 The full Grand Theft Auto Online experience will be available for PC on day one. Those who pre-ordered the game on PC will now receive an additional $200,000 in-game cash, on top of the $1,000,000 originally promised.
Rockstar went on to comment on the PC version of the game, stating that it is the most technically advanced version yet and will be optimized to support a wide range of hardware:
"The PC version of Grand Theft Auto V is our most graphically and technically advanced version yet, fully optimized to support a broad range of current hardware (system specifications) and features a host of PC-specific enhancements including greater levels of detail, deep configuration options and ultra-high-definition support – as well as the powerful new Rockstar Editor for recording, staging and editing original custom videos."
You can read the full update from Rockstar, HERE.
Discuss on our Facebook page, HERE.
KitGuru Says: So there you have it, Grand Theft Auto Online Heists will arrive on the 10th of March while Grand Theft Auto V for PC will now arrive on the 14th of April- hopefully this release date sticks.