Rock Band 4 and Guitar Hero Live are on the way this year. While the new Guitar Hero won't be supporting older peripherals, Rock Band 4 will be picking up the slack, supporting instruments from the last generation Rock Band games as well as the older Guitar Hero titles.
We now have a full list of confirmed compatible instruments, though Xbox One owners will need to spend a little extra in order to use them. Bundled with the physical copy of Rock Band 4 on the Xbox One will be a wireless adapter, which will allow you to use the old Xbox 360 guitars and drums.
You can see the full compatibility chart below: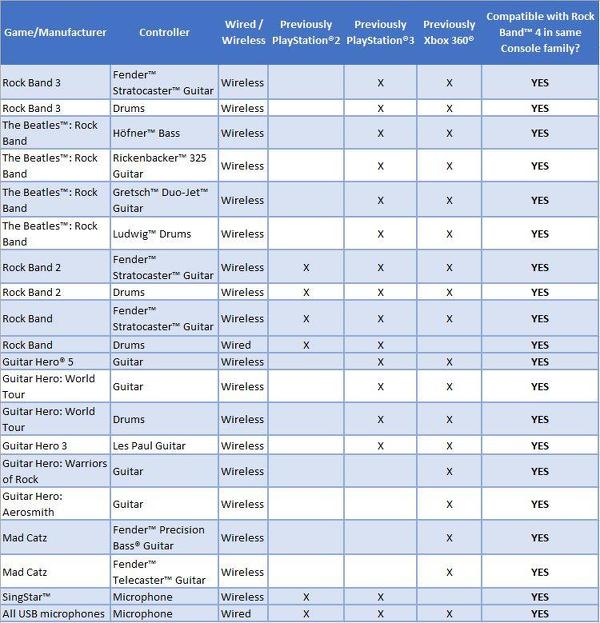 Rock Band 4 will launch with 60 new tracks, though players will be able to access their old DLC songs- another feature that Guitar Hero is currently lacking. On the PlayStation 4 the game will cost £49.99, while on the Xbox One it will set players back by £69.99, once again, due to the additional wireless adapter.
The game launches on the 6th of October. If you don't have any of your old peripherals lying around, then you can pick up a new set of instruments along with the game, though it will cost £219.99. If you just want the game and a single wireless guitar, then the price drops to £109.99.
Discuss on our Facebook page, HERE.
KitGuru Says: Rock Band 4 is on the way and by the sounds of it, Harmonix has been working hard to pack in more value than the competition. Access to older DLC and the ability to use old controllers will likely win many over.