There have been many great Star Wars games over the years. We've had RPGs, action-oriented titles, space-combat games and even a few strategy games sprinkled in. For RTS fans, Empire at War has served as the best example of a Star Wars strategy title for many years and it seems that the developers behind it are keen to do a sequel- EA just needs to let it happen.
Petroglyph, the studio behind Empire at War and new RTS 'Battalion Forged', recently held a Reddit AMA. During this, the developers were asked about Empire at War and the potential for a sequel or future content for the original. The good news is, the developers are keen and have even discussed ideas for such a sequel, the bad news of course, is that EA is the exclusive license holder and so far, the publisher hasn't shown interest in handing the reigns over to Petroglyph.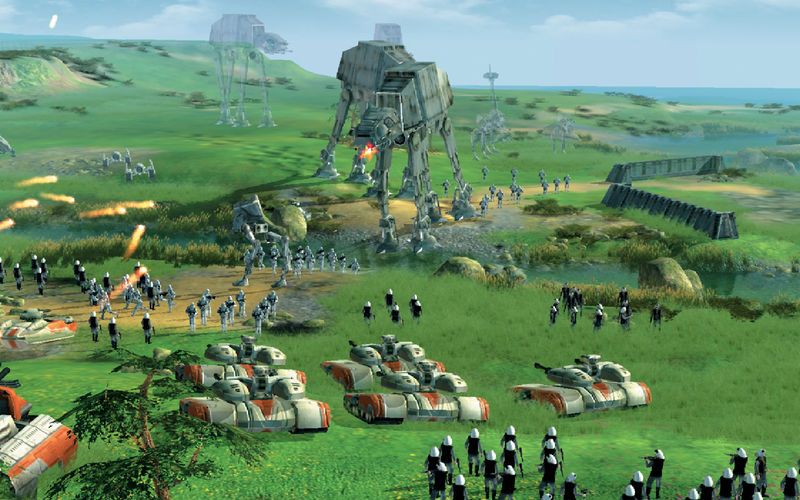 "This is something that is purely corporate. I don't have details, but EA has the licence to do all Star Wars games and they seem focused on making a few titles at a very high quality bar. So, they are using all their available resources to that end, which means that if you're not into FPS, it's not currently a priority. We have reached out to them a few times to see if they would be interested in contracting us to build an Empire at War II at the same quality level as their other Star Wars FPS titles, but nothing has resulted from that (yet)."
Star Wars: Empire at War released back in 2006 and was set between Revenge of the Sith and A New Hope in the timeline. Last year, the game began receiving new patches to keep the game running, something that Disney openly supports for its legacy games. On top of that, Steam Workshop support was added, opening the door for community-made mods to keep the game alive.
As one Petroglyph developer explains, the studio "would love to work on Empire at War again", the devs have even been "tossing around ideas since the new movies came out". However, at this point in time, the decision lies solely in the hands of EA and Disney.
KitGuru Says: So far, EA has used the Star Wars license to focus almost exclusively on high-budget shooters. However, you don't necessarily need to spend hundreds of millions of dollars to create a good game. RTS titles might not sell as well as blockbuster shooters, but with some smart budgeting and decent talent involved, I don't see why a new Empire at War game wouldn't succeed. Perhaps now that some publicity has been thrown at this, EA will take notice. Did any of you guys play Empire at War back in the day? Would you be up for a new Star Wars RTS game?