Ubisoft has been known to partner up with hardware makers from time to time in order to offer up free copies of newly released games. In the past, Ubisoft has had game bundle partnerships with Nvidia and AMD but this year for Watch Dogs 2, the publisher is teaming up with Samsung, packing in a free copy of the game with new curved gaming monitors and SSDs.
Samsung just recently launched a new line of curved gaming monitors, with a 24-inch, 27-inch and 34-inch model, all featuring excellent colours, high contrast ratios and AMD FreeSync technology. Aside from that, Samsung's range of 850 EVO and 850 PRO SSDs have been well received by users for years.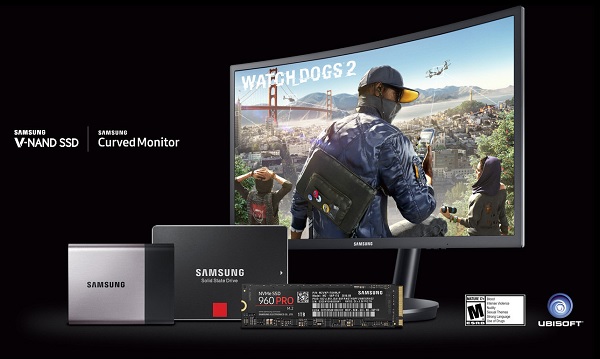 Here's the list of eligible products that will come with a free copy of Watch Dogs 2:
960 PRO SSD (512GB, 1TB, 2TB)
960 EVO SSD (500GB, 1TB)
850 PRO SSD (512GB, 1TB, 2TB)
850 EVO SSD (500GB, 1TB, 2TB, 4TB)
850 EVO M.2 SSD (500GB, 1TB)
850 EVO mSATA SSD (500GB, 1TB)
Portable SSD T3 (500GB, 1TB, 2TB)
Samsung CFG70 Curved Gaming Monitor (24-inch)
Samsung CFG70 Curved Gaming Monitor (27-inch)
Samsung CF791 Curved Monitor (34-inch)
The promotion is available at participating retailers until the 31st of December. However, Watch Dogs 2 won't unlock on the PC until the 29th of November so keep that in mind.  You can find out more about Samsung's new Quantum Dot gaming monitors, HERE.
Discuss on our Facebook page, HERE.
KitGuru Says: I've managed to grab quite a few Ubisoft games for free over the years thanks to graphics card bundles but I don't think I've ever managed to get a free game with an SSD or a monitor before. Are any of you planning on grabbing any new hardware before the end of the year?