We are receiving a lot of reports from you guys telling us that Steam is currently revoking Sniper Elite III keys bought from sites like CDKeys and Kinguin. Valve has yet to offer an official explanation or statement but this could be a sign that the company is going to fight back against cheap CD key selling sites.
Right now customers are receiving emails stating that a problem has occurred with the supplier and full refunds will be issued:
"We have continued to work with our supplier to find a solution to the issue that has affected your CD Key today, however despite our best efforts this has unfortunately not been possible. We understand that you are very keen to play the game that you have purchased as soon as possible but as a resolution has failed to materialize and as we are unable to offer you a replacement CD Key we have decided to take the action of issuing you a full refund rather than keep you waiting any longer."
Some retailers are offering a discount on your next order to make up for the trouble but we don't know if this is Valve's first step to ridding itself of unofficial sellers.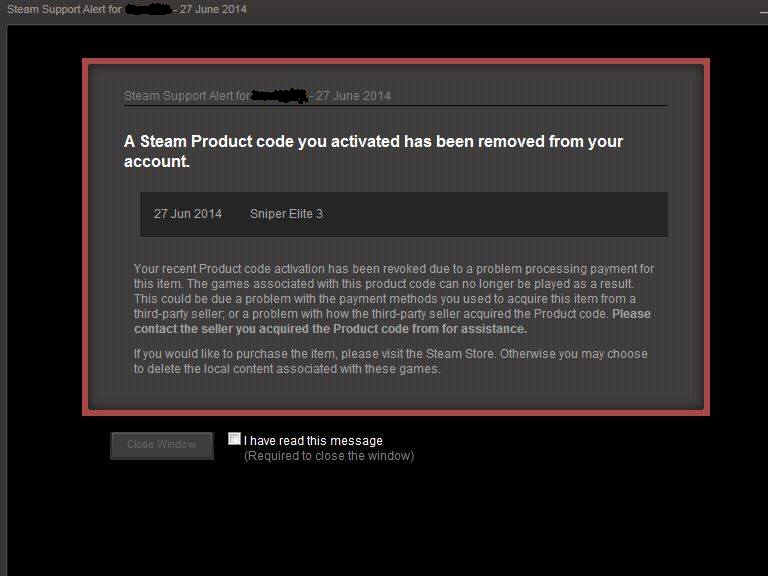 I would like to draw your attention to a specific section of Steam's message: "This could be due to a problem with the payment methods you used to acquire this item from a third-part seller; or a problem with how the third-party seller acquired the product code."
It's a little early to say whether or not Valve is moving to ban games bought from sites like G2A, CDKeys or Kinguin but it's possible. Hopefully Valve will offer a statement soon.
Discuss on our Facebook page, HERE.
KitGuru Says: If this has happened to you before then let us know as we are interested to see how many people this has affected. Lots of people use these third-party sites, even if they are unofficial so hopefully Valve doesn't start back tracking and revoking games people have bought in the past. What do you guys think of this? Should Valve be allowed to revoke games from user accounts based on how they acquired the code?