After a week or so of speculation we finally have confirmation that gamers will have a chance to beta test Titanfall on both the Xbox One and PC sometime soon. Respawn co-founder, Vince Zampella announced the beta earlier today on Twitter: "I'm sure no one has been able to guess from the leaks. PC and XboxOne Beta! Details in the coming days."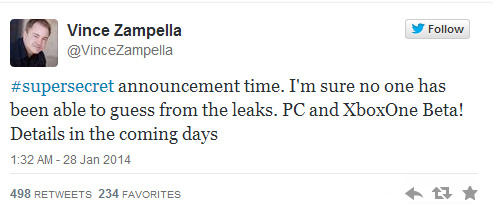 The leak Zampella is referring to came from a French retailer which began advertising the beta which is said to run from the 14th to the 19th of February, although it was said that the beta would be limited to those who had pre-ordered Titanfall from Micromania in France and GameStop in the US. While a pre-order might be a good pre-requisite for beta access, it wouldn't be wise to limit it to any one territory, hopefully the rumour will turn out false and we'll see a completely open beta.
Titanfall is currently being stress tested on the Xbox One but EA has previously stated that this is not the beta,  in-fact at the time, EA claimed it had no news to share about a possible beta at all.
KitGuru Says: EA probably shouldn't be too stingy with the beta access for this game, it's a new IP and a lot of gamers, especially on the PC side, are going to be reluctant to pre-order an untested game after what happened with Battlefield 4.