Titanfall has done well for itself, the new IP released to a swarm of good reviews and it looked like the launch would go off without a hitch, unfortunately Microsoft's Xbox Live service wasn't feeling up to the task yesterday as it went down for six hours, stopping many gamers from signing in and getting to the action.
During the outage, many began to think that this was an issue relating to the launch of the game however, it turns out that it was a fault on Microsoft's part. Major Nelson tweeted: "If you are having issues signing into Xbox Live, we are aware of it and actively working on the issue. This is not a #Titanfall issue"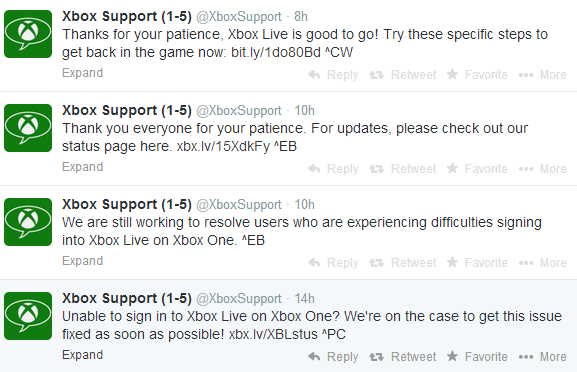 The Xbox Support Twitter page gave us a time line of the situation, showing that the whole service was down for six hours. The game has also experienced some minor difficulties on the PC which was brought to our attention by the game's Google+ page: "We're aware that some users may have experienced early issues on PC and Xbox One. We've just pushed a patch that's now recovering servers quickly. Players will load into Private Lobbies much faster and we're continuing to monitor. "
KitGuru Says: Xbox Live has had a couple of outages since the launch of the Xbox One, making me wonder if Microsoft is glad it reversed its 'always on' DRM policies for the console. I've been playing a lot of Titanfall over the past couple of days and I haven't experienced any issues but every user is different, have any of you guys had any problems while playing the game?