If the MPAA, FACT and other organisations thought they had their work cut out for them before, they're about to enter a whole new world of hurt, as Popcorn Time is offering to let users watch torrented movies in a stream, without downloading them in the traditional fashion.
Produced by a team "with <3 from Buenos Aries" (clearly they produce more than just bug killers) the software is in beta at the moment, but is available on OSX, Windows 7 and up and Linux (though that beta is also in beta, apparently). It works by searching out the latest movies by torrent scene standouts like YFS (formerly YIFY) and adding their latest releases to the list of other available streaming options.
Several times on the site, the owners warn users that unless they're somewhere where international copyright law doesn't apply, or their country has been given a pass for one reason or another, that watching copyright protected content through Popcorn Time is as illegal as downloading the movie in the first place. It also warns that those in "Queen Elizabeth's realm," that you might struggle to get past the buffering screen – though through my own research, that doesn't seem to be a problem.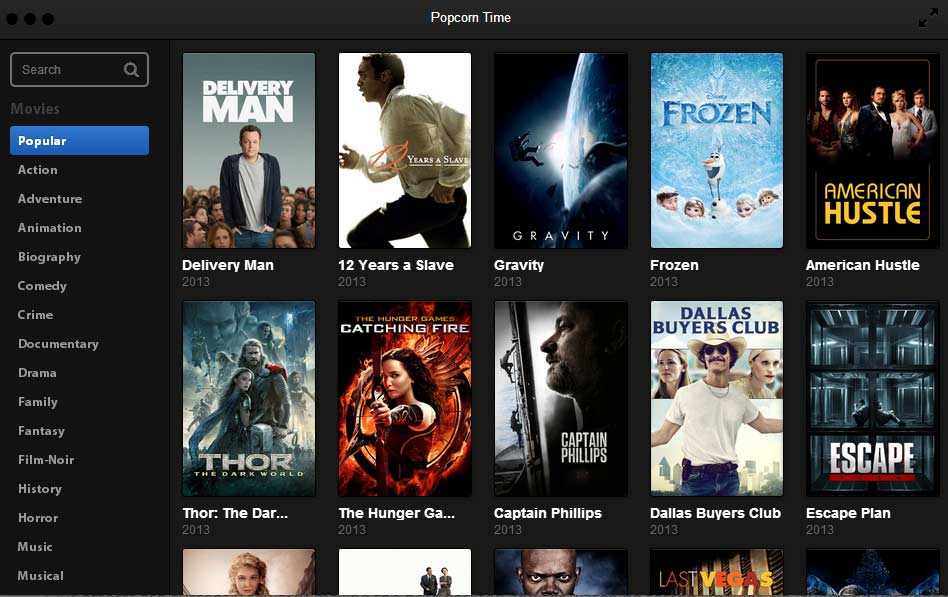 Not all of them seem to work, but for the most part, give or take a minute or two for buffering and you wouldn't really know the difference between this and Netflix. Except this doesn't suffer from the Murdoch monopoly robbing all the latest movies.
For those with decent connections, this isn't something new though. Those that can download a movie in under five minutes aren't necessarily going to be that bothered by streaming technology, but the team behind Popcorn Time are doing it for those that are less technically savvy and may never have even heard of a torrent client.
"As a designer I love the challenge of simplification. Take something hard for the common user and make it usable. I have a lot of friends who don't understand torrents and I wanted to make it easy and effortless to use torrent technology," one of the creators told TorrentFreak.
Those efforts eventually created a very workable piece of software that has drawn a lot of attention from all sorts of communities. Within hours of launching, multiple language variants were created, subtitles were added for each film and collaborators from around the world began helping to make Popcorn Time a shining example of simplistic movie viewing.
And it's all totally automated. "We consume a group of APIs, one for the torrents, another for the movie info, and another for the poster. We also have an API for the subtitles," the creators said.
Despite its apparent success and simplification of a process of movie watching that was only really hampered by its requirement for some simple technical know how, they aren't worried about legal action. There's no adverts on the software, no premium accounts; no one is making any money, so what could Hollywood sue them for?
KitGuru Says: Chances are it'll try and soon. Maybe the website will get DNS blocked, maybe they'll be charged with copyright infringement simply for facilitating it, much like Kim Dotcom and other file lockers owners have been targeted. 
But ultimately these guys just want everyone to have the chance to watch new movies at home, something that the powers that be aren't willing to provide, yet. This is a line in sand for movie viewers that can only really end one of two ways: in the shutdown of Popcorn Time, or the creation of a legal alternative. I know which one I'd like to see.