Back at this year's Game Developer Conference, Valve turned up with its brand new virtual reality headset, built by HTC and known as 'The Vive'. Over the course of the weekend we saw some blurry images of what we now know is a Portal virtual reality demo, though we did not get to see much of it close up.
Now, we have a video of the full demo that was shown off at GDC. It is known as the Aperture Demo and was posted online by ValveTime, who also provided commentary. explaining what is going on in the demo.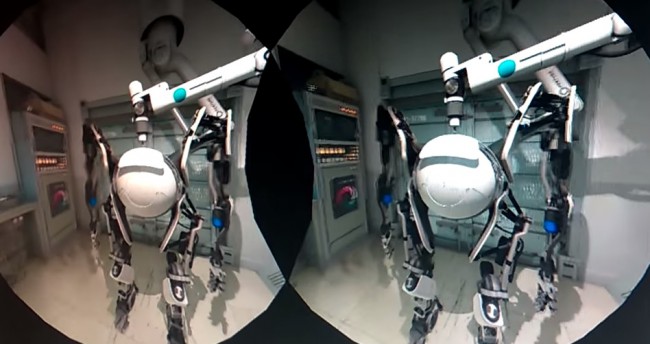 [yframe url='http://www.youtube.com/watch?v=u28oYid7pOU']
The whole video runs for about ten minutes. Unfortunately, this isn't a direct screen capture but rather, a smartphone recording of what was happening on a PC monitor, so it is difficult to judge the full quality of the assets used in the demo but still, it looks pretty good.
Right now, Valve and HTC's collaborative virtual reality headset is due out at the end of this year. We don't have any game announcements for its launch just yet but hopefully Valve has something up its sleeve, it would be nice to see Portal VR launch alongside the new headset.
KitGuru Says: Valve has yet to announce any games for the launch of its virtual reality headset but it has clearly been working on a few things behind the scenes. Would you like to see a Portal VR game released alongside The Vive at the end of this year? Would you rather Valve focussed on another franchise?