Earlier today, Nintendo hosted a 49 minute stream focusing on Super Smash Bros. Ultimate's 6.0 update. The update video brought with it an abundance of new announcements, including the release date for the newest DLC fighter, Terry Bogard, a look at the new stage inspired by The King of Fighters, new Mii fighters, and more.
The stream was hosted by Masahiro Sakurai, the director of Super Smash Bros. Ultimate. In the stream, the release date of Terry Bogard from Fatal Fury, who was announced back in September, was revealed to in fact be today. Nintendo used a similar tactic during the in-depth look at its previous DLC fighter, Banjo and Kazooie. Unlike the Banjo release date however, this one wasn't accompanied by the announcement of the next DLC fighter.
A new stage was also announced and released. Titled 'King of Fighters Stadium', it's inspired by the series' tournaments. While character DLC is accompanied by new music, the Terry DLC will bring with it an unprecedented 50 new tracks to the game. Terry Bogard, the King of Fighters Stadium Stage, and the 50 new tracks will be available to all those who own the fighters pass, after updating to version 6.0.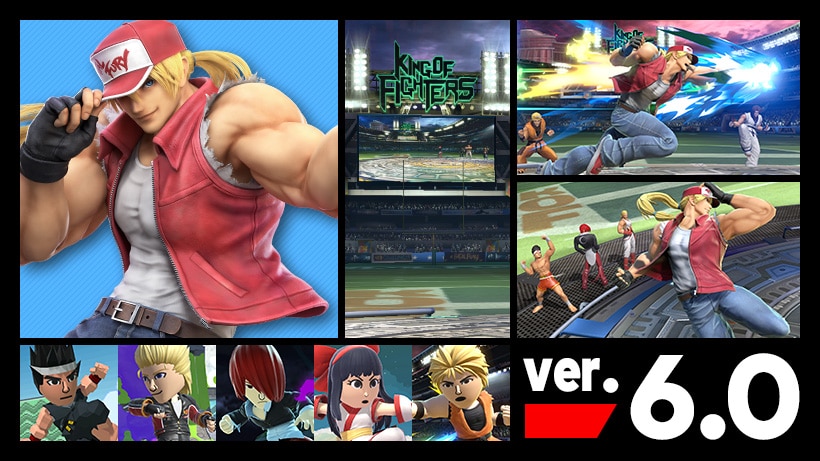 The stream brought with it some more announcements however. 5 new Mii fighter costumes are available: Nakururu, Ryo Sakazaki, Iori Yagami, Akira, and Jacky, all of which hail from various classic SNK fighting games.
Other additions include the ability for players to send set messages to each other inside an arena in Battle Arenas, the host player can now change some rules without having to shut down the arena in Battle Arenas, the option "Random Battlefield and Ω Form" has been added to the stage settings in Battle Arenas, and the arena type "Elite Only" has been added to Battle Arenas.
Nintendo has been showing an immense level of support to Super Smash Bros. Ultimate. Hopefully the updates, optimisations, and quality of life improvements will continue for years to come, especially with the announcement of more DLC fighters on the way after the conclusion of its first fighters pass.
Discuss on our Facebook page HERE.
KitGuru says: What do you think of update 6.0? Has Nintendo been updating the game at a fast enough pace? What do you think the next DLC fighter will be? Let us know down below.