Due to a disagreement with a local licensing body, German Youtube viewers haven't been able to watch much in the way of music videos on the streaming site – without using a proxy – for years now. However, finally, after much negotiation, a deal has been struck and the blocks lifted. Suddenly, thousands of music videos are available in Germany once again.
GEMA, the German licensing body responsible for disallowing so many music videos to be played in Germany, failed to re-up its license with Youtube in 2009 and ran several ongoing lawsuits against the site, claiming it should be responsible for users uploading copyright protected material. While it lost that particular case, clearly tempers have calmed, as the two entities have now reached an agreement on a new licensing deal.
Youtube even made a special GIF to celebrate.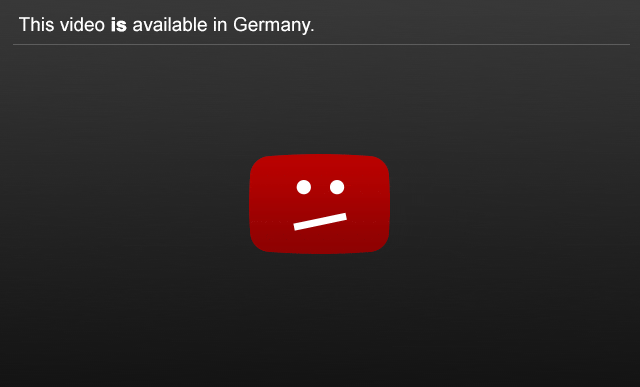 "This is a win for music artists around the world, enabling them to reach new and existing fans in Germany, while also earning money from the advertising on their videos," says YouTube's Christophe Muller (via TorrentFreak).
"And for YouTube users in Germany, who will no longer see a blocking message on music content that contains GEMA repertoire, for the first time in seven years."
All of this was only possible though because Youtube agreed to pay GEMA retroactive compensation, essentially admitting fault over the past few years. No word on what the settlement figure was, but if thousands of artists were represented and owed license fees for seven years, it could have been quite a hefty total.
Regardless of the behind the scenes fighting though, this is a win for consumers, who can now watch music videos in Germany without having to breach copyright protection. Oh the irony.
Discuss on our Facebook page, HERE.
KitGuru Says: It always seemed so ridiculous that an entity claiming to represent musicians in Germany, would actively block Germans from seeing videos of those artists. Surely all that does is weaken their potential careers and publicity?