Californian's attempting to access some of the world's most popular pornographic websites this week will have found it a little harder than normal. In protest of Proposition 60, which would make it mandatory for porn performers to wear condoms during shooting, a number of sites blocked Californians from viewing any content at all, as a form of digital sit in.
Although Proposition 60 has caused ire among pornographic actors and staff behind the camera for its forced condom wearing, the real kicker is that if enacted it would allow everyday citizens to sue pornographic producers if they consider the scenes in violation of the law. This, content creators claim, would expose the industry to endless lawsuits and stalking through the courts.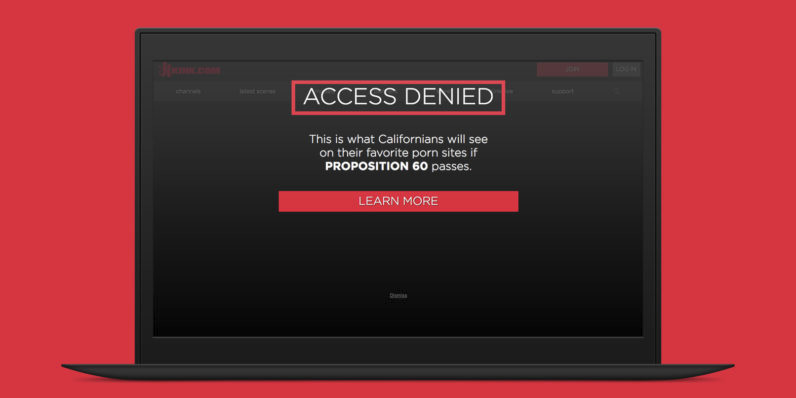 Fortunately for those protesting Prop. 60, the public will have a chance to vote on the ballot, which will take place on 8th November. The blocking of many of the most popular porn sites in California made it impossible for locals to access the content earlier this week and also encouraged them to vote against the bill in November.
In preparation should the bill pass anyway though, a number of high-profile porn producers and studios have said that they may permanently block their content from being viewed in California.
Mike Stabile, a spokesperson for fetish production company, Kink, said in a statement to Vocative: "Prop 60 isn't a public health measure, it's a public harassment measure for adult performers. If we have to block access to California in order to protect the performers who work with us, that's what we'll do. And should this initiative pass, it's something we'll be looking at doing in California on a permanent basis after November 8."
Discuss on our Facebook page, HERE.
KitGuru Says: Much the same as the age gating plans here in the UK, there is no way to completely police nudity or pornography online without massively impeding on the rights of individuals. Pornography between consenting adults should be whatever they want it to be and keeping children from it should the jobs of the parents. It's really that simple.