Fitbit, one of the worlds most well known makers of wearable fitness trackers, has admitted that its latest product, the Surge, is causing rashes for some of its users. Unfortunately for Fitbit, this is far from its first problem with rashes, as many of its previous wearables have had a similar issue.
With those however it was said to be an allergic reaction to the nickel used in the creation of devices like the Fitbit Force, which eventually had to be pulled from sale due to all the problems people had. To correct that issue, Fitbit claims that the Surge has been made with far less nickel and indeed, less people are reporting problems – but there are still a fair number that are finding their wrists red and saw after prolonged use.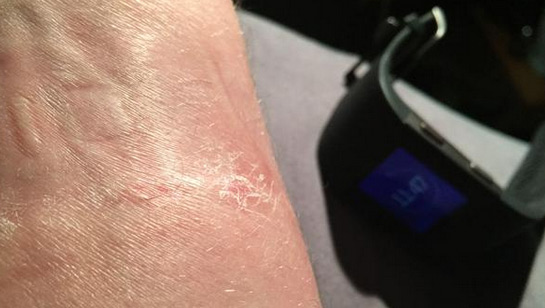 Fitbit hasn't denied these claims, but has suggested that it may be because people are getting unduly sweaty or not keeping the device clean enough. Its suggestion for a solution is simply to not wear it for a while and make sure it's clean.
"The reactions we are seeing with new products are not uncommon with jewellery or wearable devices that stay in contact with the skin for extended periods," Fitbit said in a statement (via TechCrunch). "According to our consulting dermatologists, they are likely from wearing the band too tight; sweat, water, or soap being held against the skin under the device; or from pressure or friction against the skin and should resolve quickly when users take a break from the device, usually within hours or days."
It then went on to state that this is a problem faced by all those that make products that are "worn close to the skin." But rashes aren't anywhere near as common with other wearable device makers.
KitGuru Says: Have any of you guys used a fitness wearable? If so, did it give you a rash after prolonged use?
Image source: @Data_Smith