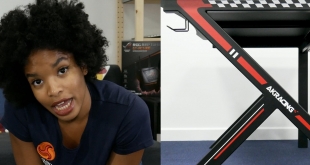 When you're spending so much money on the components that go above and below your desk, how much attention should you be giving the desk itself? Does the quality of the desk matter to you or should you be happy with a cheap and nasty desk from a local store? Today we take a look at a new model from AKRAcing – called the Summit. its quite expensive, but promises to offer a better experience for those spending a lot of time gaming!
Watch via our VIMEO Channel (Below) or over on YouTube at 2160p HERE
So, not only do AKRacing do some pretty nice gaming chairs they dabble a bit into gaming desks as well! You do have to assemble it yourself but thankfully there are so few parts to mess with it's pretty straightforward and if I can do it in under 30 minutes, you'll have no problem.
The desk comes in at a hefty £249 which is a pretty premium price for what it is and it IS a nice desk considering the material and the design elements they've put into it, I guess I can understand the asking price.
MDF PVC laminated surface
Built-in cable management system
Includes optional hook for headphones
Included extra large AKRacing grey mousepad included (28 x 14 in)
Desk dimensions: 45.7 x 29.5 in (116 x 75 cm)
Desk height: 28.7 in (73 cm)
Leg width: 25.4 (64.5 cm)
2yr warranty.
It's still a desk at the end of the day and you can make the argument that since it doesn't convert to a standing desk, there's no built-in RGB or any other bells and whistles, it's hard to justify that price.
As I promised in the video you're in for a treat, Scan is doing a special Black Friday bundle on both the EX Gaming Chair and the Summit Desk at a really nice price. You can see that HERE.
Pros:
Made out of strong material
Laminated surface looks great
Cool Design
Built-in cable management
Two-year warranty
Cons:
It's a pretty expensive desk
Still a fairly simple desk
KitGuru says: It's a fairly simple desk done very well. No bells or whistles here, just a good solid, stylish looking desk with a few accessories for the gamer out there. It's a bit on the expensive side, sure, but for the material, it's made out of and the warranty they're providing I'm not sure we can blame them!
Be sure to check out our sponsors store EKWB here