The first generation Asus ZenFone 4s kicked off the company's attempt to break into the modern smartphone market back in 2014. Fast forward three years later and we are entering its fourth generation, with Asus announcing six new handsets in the ZenFone 4 line, each sporting dual lens cameras.
The officially announced devices all carry a variation of the ZenFone 4 name, with the full lineup consisting of the ZenFone 4 Pro, ZenFone 4 Selfie, ZenFone 4 Max, ZenFone 4 Selfie Pro and ZenFone 4 Max Pro, with the last confusingly carrying the name of the original device, the ZenFone 4.
The flagships are the ZenFone 4, housing a Snapdragon 660 at a starting price of $399 and ZenFone 4 Pro, with a typically higher price tag for its higher-end hardware. The Pro features a Snapdragon 835 processor, 6GB of RAM, a USB Type-C charger that is slowly becoming standard on Android phones, and a 3,600 mAh battery, all for $599.
If battery is the main focus when purchasing a smartphone, then attention should be drawn to the ZenFone 4 Max and Max Pro. Each are powered by a whopping 5,000 mAh batteries that Asus claims one charge can last over double the length of time a standard battery can in conjunction with its PowerMaster technology.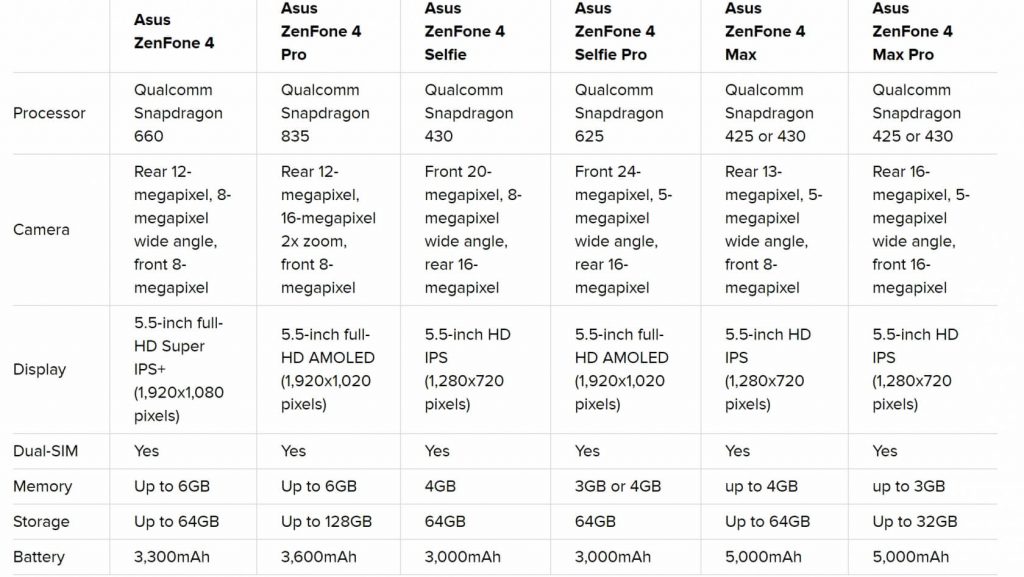 Graph courtesy of CNET.
The ZenFone 4 Selife and Selfie Pro are designed with photography in mind, with a 20MP and massive 24MP front-facing camera respectively, as well as a 16MP rear camera on both models, doubling almost all other phones in this new lineup. The Selfie Pro even supports video capture in 4K, making use of its sizeable front-facing camera. The Selfie is expected to retail starting from $279 with the Pro coming in at $379.
KitGuru Says: Although the sheer amount of models means making compromises when choosing your next smartphone, the price points do seem fair so far. Do you plan on picking up a ZenFone? Which one would you choose?