Given the turbulent year HTC has had, from Google scooping up its smartphone team for $1.1bn to its head of design stepping down in February, it's a wonder that the handset maker has another device in store. Enter the newly unveiled U12+, an unexpected yet traditionally designed handset set to rival offerings from Samsung and Google.
The first thing to notice about HTC's highest-tier smartphone yet is it distinctly going against the grain of trends in 2018, sporting a traditional 6-inch notch-less LCD display with a Quad HD resolution and 18:9 aspect ratio.
Under the hood, the U12+ houses Qualcomm's latest Snapdragon 845 processor backed by 6GB RAM, 128GB storage and a 3,500mAh battery. Storage is expandable through a microSD slot up to 2TB.
HTC has improved upon its gestures technology, introducing its vastly improved squeezable Edge Sense 2.0 that can be used to open applications and utilise features at a quick squeeze, unlike Google's Pixel 2 summoning the slightly intrusive assistant. Screen gestures have also been reworked, allowing users to double tap various parts of the device for different effects.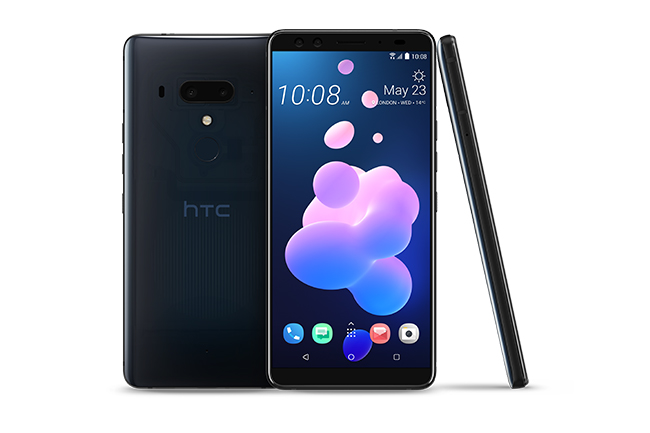 In direct competition with the camera on Google's Pixel 2 handset, the U12+ boasts its new and improved dual lens technology on both the front and the rear of the device, to which the company claims offers a "DSLR-like" real-time bokeh blur.
The rear camera specifically utilises laser autofocus, 2x optical zoom and 10x "high-quality" zoom and HDR Boost 2 tech across its 12MP main sensor and 16MP telephoto lens. HTC claims that its HDR Boost 2 tech is better than that of Google's HDR+ feature, because of course it would. This has yet to be confirmed with a hands-on with the device, however.
Alongside an IP68 certification to ensure protection against water and dust, HTC has made its U12+ compatible with Quick Charge 4.0, although it only offers a Quick Charge 3.0 charger within the box. Face unlock is also a feature to put it more in line with Apple's flagship, as well as a rear fingerprint sensor.
HTC is offering its U12+ in Ceramic Black, Flame Red and, oddly, Translucent Blue that allows for a peek at its internals. Devices should ship at some point in June in the UK, however it will be priced fairly reasonably in comparison to competitors at £699.
KitGuru Says: We'd heard rumours of HTC's latest smartphone for quite some time, with whisperings suggesting that HTC was already bearing fruit with the U12+ before everything hit the fan. Regardless of what's to come beyond its latest flagship, the U12+ is looking good against its more expensive competitors.