Huawei is just days away from returning to Paris for its annual flagship P Series release, but that hasn't stopped the company from leaking details about its own smartphone. Unlike Huawei's promotional posters sporting stock images, these photos provide our best look at the upcoming P30 and P30 Pro, as well as a range of features set to appear across the two.
Yesterday, Evan 'EVLeaks' Blass directed the attention of his Twitter followers to an event page on Huawei's website pertaining to the P30 Series launch, before it was taken down. As expected given the various rumours across the past few months, the standard P30 will house a trio of lenses on the rear, while the P30 Pro opts for the company's first quad rear camera.
The P30 is comprised of a "smarter" 40MP primary lens with Huawei's SuperSpectrum Sensor, telephoto lens and an Ultra Wide Angle lens. The P30 Pro swaps out the telephoto lens for a periscope telephoto camera and adds Huawei's time-of-flight (ToF) camera, helping to capture closer images with a 10X hybrid zoom and a super-high ISO for night time shots.
Although the company is renown in the photography space, Huawei is overhauling its video efforts with a low-light mode and its new Dual-View Video mode. This will allow two rear cameras to work simultaneously to "enjoy the moment with different perspectives," although it won't arrive until the HOTA update lands post-launch.
From the small leaked image, it looks as though Dual-View will split the screen into two segments, but it isn't certain whether this allows for both images to be captured or enables the user to choose between them on-the-fly for dynamic cuts. Huawei also hasn't stated which lenses can be utilised with the feature.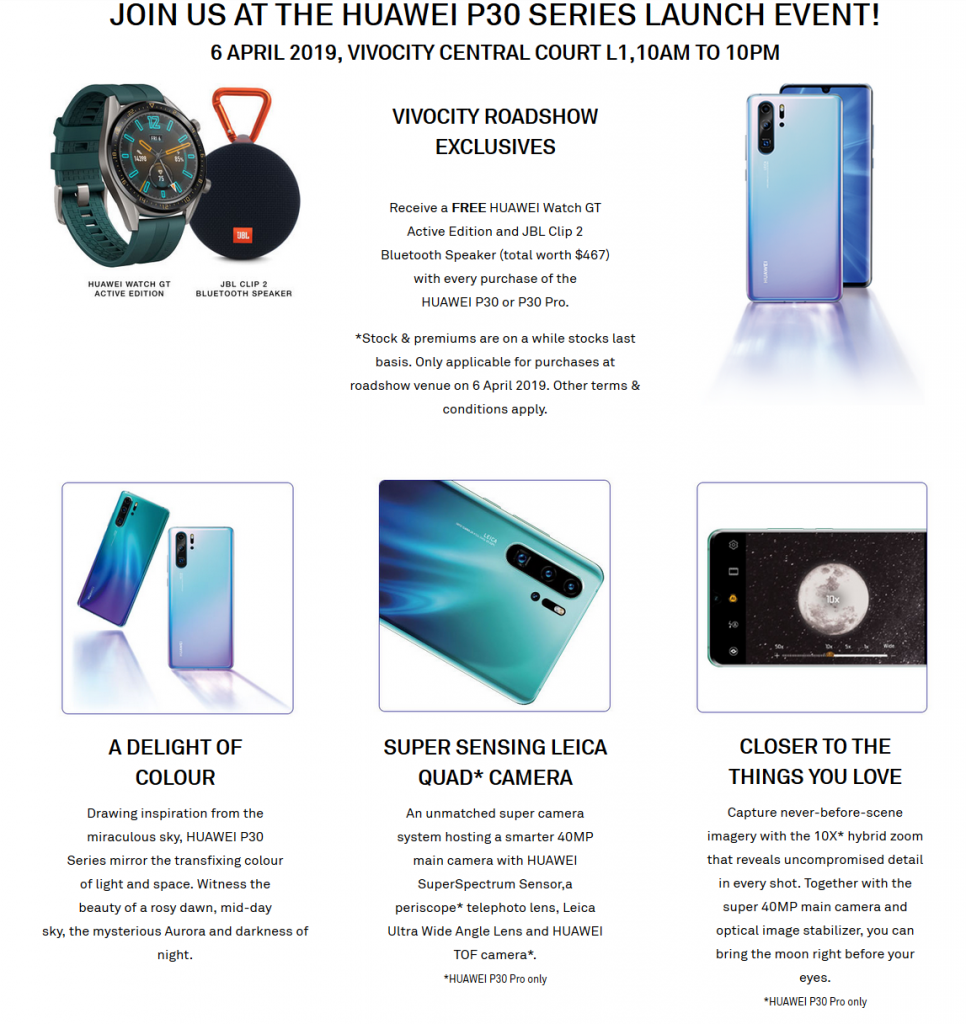 As usual, the devices look to come in a new version of Huawei's Twilight and Aurora aesthetics. The company will also be launching a new version of its latest smartwatch, dubbed the Huawei Watch GT Active Edition. We're hoping that this is a more rugged version and not just on-the-surface changes.
All will be revealed next week, Tuesday 26 March, 2019 during Huawei's Paris unveiling. Pre-orders will once again be accompanied with a range of freebies, including a Huawei Watch GT Active Edition and JBL Clip 2 Bluetooth Speaker worth $467.
 KitGuru Says: As always, Huawei's new line-up looks beautiful and I adore the aesthetic changes to the Watch GT. Still, leaking your own information seems like a mistake someone might lose their job over. What do you think of the P30 and P30 Pro?