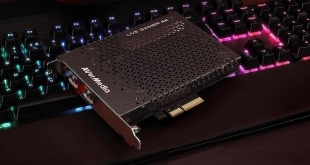 AVerMedia has been around for quite a while, providing different ranges of products mainly targeted at content creators. Aiming to compete directly with Elgato, AVerMedia launched its 4K capable, HDR compatible PCI-express capture card that is priced at £249.95. Alongside our review of the GC573 Live Gamer 4K HDR Capture Card, we also take a look at the Live Streamer Mic 133 as well. This unidirectional condenser microphone has an MSRP of £69.99 and has DSLR, Android/iOS, and Mac/PC compatibility.
Watch the video via our Vimeo channel (below) or over on YouTube at 2160p HERE
Specifications:
Colour: Black
RGB Customisable (3 Presets)
Interface: PCI-Express Gen 2 x4
Video/Audio Input: HDMI 2.0
Video/Audio Output: HDMI 2.0 (Passthrough)
Support Resolutions: 480p, 576p, 720p, 1080i, 1080p, 1440p, 2160p
Recording Format: MPEG 4 (H.264+AAC) (H.265 Compression and HDR recording are supported by RECentral)
Max Recording Resolutions: 1080p240, 1440p144, 2160p60 HDR*
Dimensions: 151mm(L) x 125mm(W) x 21.5mm(H)
Weight: 208g
Box Contents:
Live Gamer GC573 4K capture card
HDMI 2.0 cable
Quickstart guide
Cyberlink Powerdirector 15 product key card (4K Video editing software)
Installation of the GC573 capture card was incredibly easy to do, all it took was for me to locate a empty PCI-e slot in my motherboard, slot the card into its place, and then screw it down. I've always personally preferred having the PCI-e versions of capture cards as it removes the annoying mess of wires and keeps your setup clean looking as the HDMI ports are located at the back of the case anyway.
Software installation was pretty simple too. At first the card didn't seem to register – but after installing the AVerMedia Assist Central software I was able to download the much needed drivers and the RECentral software for the capture card. After this, my PC recognised it and vice versa, allowing me to see the device in the RECentral software.
Actually using the software to record the games from my PS4 Pro was rather delightful. I felt having the option to turn on the HDR recording for games that allowed it was pretty amazing, and having that feature built in to the capture card is fantastic. It definitely changes the way you look at your current games, as you can get more stunning, immersive visuals while playing. I never realised how comparatively dull Red Dead Redemption 2 looked on PS4 Pro, even with it being 'enhanced,' but turning on that HDR option was breathtaking.
Another pretty cool thing the RECentral software allows you to do is actually change the codecs when recording or streaming – so instead of using the presets, you can adjust the FPS, Video Bitrate, whether you want it to record from CPU processing or the recommended Nvidia graphics cards, so you don't have to be stuck with what it thinks is best.
The gameplay capture while using the card looked and felt rather nice and fluid with all the settings I had chosen, whether it was 1080p/30fps, 1080p/60fps or 4K. It was just unfortunate that I couldn't really get the full capability out of this card, due to not having a 144Hz/240Hz monitor, while the PS4 Pro generally caps the frame rate in a lot of games, too.

You can buy the AVerMedia GC573 4K HDR Live Gamer Capture Card from Overclockers UK for £249.95 HERE
Pros:
Super easy installation.
Beautiful HDR compatibility.
RECentral can be used as a streaming platform.
4K60fps support.
Full HD, high frame rate capture up to 240fps.
Lighting customisation.
Cons:
A little expensive.
RECentral is a little bit slow when changing settings.
KitGuru says: This card is definitely one to think about getting, especially if you have the compatible equipment making sure you get the most out of the experience. Not only for the FPS sides of things, but mainly for that HDR feature. That alone makes this capture card a great option.
Be sure to check out our sponsors store EKWB here