It looks like Google needs to come up with a few more tricks to clamp down on the amount of app developers scamming their way to positive reviews as research published this week has revealed several new tactics currently being used to nab higher star ratings. You are all likely already familiar with the constant 'rate our app' pop-ups but it seems false promises of unlocked content and the removal of ads are also inflating app ratings.
This is all according to the researchers over at ESET, who have observed an increase in the number of apps on Google Play using social engineering to boost ratings. These sour tactics are mainly being used to boost the appearance of fake/malicious apps on the store, which can then sit on your phone and generate advertising revenue.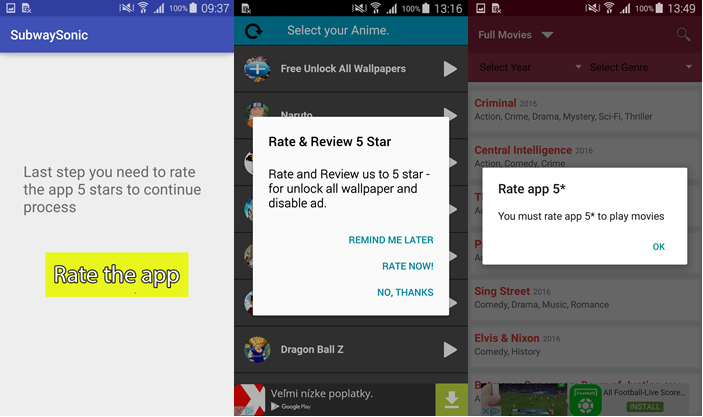 Image source: ESET
In particular, the report singles out an app known as 'Music Mania' which actually contains a threat known as Android/Hiddad.BZ. There are seven apps that appear as 'Music Mania' once installed on the phone but actually masquerade as YouTube downloaders on the Play Store itself.
Digging deeper into these apps reveal why these malicious applications got so many high ratings in the first place. It turns out once installed, the app itself will eventually start claiming that you need to leave a five star rating to access full functionality, while others claim leaving a high rating will remove ads entirely. These are of course fake promises, which perpetuates the cycle. Higher ratings means more installs, more installs means more false high ratings.
These fake apps will eventually begin just showing pop-up ads on your phone itself, infecting the entire device. In order to remove these pop-ups, not only will you need to remove 'Music Mania' but you will also need to look for something called 'plugin android', which is actually the part responsible for the ads.
KitGuru Says: Chances are, if there is an app out there claiming to offer you free downloads of YouTube videos, music or something along those lines, then it is too good to be true. Still, these high-rating scams really blur the lines between what's good and what's not on the Play Store, which is how so many people end up getting caught out. Hopefully research like this will prompt Google into changing its policies a bit to combat this.