Toshiba Corp. this week said that it had developed the world's fastest device controller for embedded NAND flash memory modules compliant with the universal flash storage (UFS) 2.0 and UFS unified memory extension (UME) 1.0 standards defined by JEDEC standard-setting organization. The company has also created embedded NAND flash memory modules with unprecedented performance.
An embedded NAND flash memory module compliant with the UFS 2.0 specification and integrating the controller achieves a random read performance about 10 times faster than modules compliant with the eMMC standard now widely used in low- to high-end smartphones and tablets. The device controller provides a performance equivalent to that of solid state drives (SSDs) for PCs in a package that is akin to a fingernail.
In UFS v2.0, the link bandwidth was increased to up to 600MB/s per lane (from 300MB/s in UFS v1.1). Besides, the UFS 2.0 introduces multilane support allowing up to 1.2GB/s per each data transfer direction. To achieve the highest performance and most power efficient data transport, JEDEC UFS aligns with specifications from the MIPI Alliance to form its interconnect layer.
However, Toshiba's implementation of the UFS 2.0 and UME 1.0 is not only about bandwidth. As modern mobile devices execute multiple applications at once, they make a lot of reads from NAND flash memory. Since any read operation takes a relatively long amount of time, multiple reads slow-down responsiveness and reduce performance.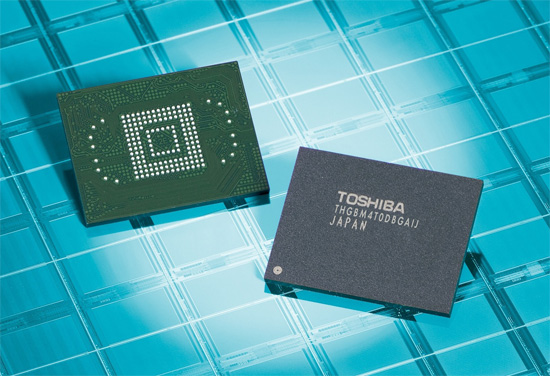 Toshiba's new controller stores data for executing a command received from the host in the host-side DRAM, reducing the number of read operations from NAND flash memory. This halves the time required to process a read command. Toshiba has also developed a hardware engine that executes read commands received from the host in parallel and integrated it into the new device controller. It achieves more than two times higher random read performance compared with conventional technology.
Using the latest technologies, Toshibas has created embedded NAND flash memory devices with integrated controllers that not only boast with 5.8Gb/s per lane transfer speeds, but also attain over 60K IOPS in random read performance of 4KB access. Toshiba claims that performance levels of the new modules is about 10 times higher than that of modules compliant with eMMC 5.0. Moreover, the company says that the chips do not increase power consumption compared to existing NAND flash storage for smartphones and tablets.
Sample shipping of embedded NAND flash memory modules with the new device controller are scheduled to start in the first half of 2014.
KitGuru Says: There is no word when the new embedded NAND flash memory modules will actually hit the market. In the best case scenario, Apple could adopt them in the future iPads due late this year. However, this may not happen as the iPhone and iPad products share a lot of design similarities and usage of all-new NAND in the tablet means that it will have to be used in the smartphone as well. However, production of the next iPhone (if it is still scheduled for September launch) starts in July, which is probably before the mass production of Toshiba's new embedded NAND flash memory modules starts. Still, in case Apple drops the UFS2-based NAND from the iPhone, Toshiba may still produce enough of modules for the next iPads.