There's a wide range of iPad cases, stands and accessories out there, it's its own multi-million pound industry, despite being just something to augment the main product. But your case, stand, whatever, has nothing on the iTrans4mer, a case, stand, speaker system and wall mount all in-one.
How does it do this? I'm not 100 per cent as I'm no engineer, but it flips all over the place and folds and… transforms, enough to earn its name for sure. I'll let the video break it down for you:
[yframe url='http://www.youtube.com/watch?v=AV33f5QHGxQ']
So by combining lots of clever hinges, a suction cup, hook stand and screw mount, you can take your iPad anywhere and turn it into a TV, a laptop and a variety of other tools. It even has a 2.1 speaker set built in, with an expandable sub-woofer chamber, giving you much improved sound over the default iPad, and making it a better movie watching device.
And you won't run out of power either, as the case's keyboard section has a built in 10,000 mAh batttery, providing enough to fully charge an iPad 2 1.5 times over.
At least that's in theory, as unfortunately the big downside with the iTrans4mer is that it's not made yet. It's a prototype only, as it's currently up on IndieGogo, with the plan to raise $500,000 to build it. The developer doesn't need that much to get you your product, but he does need a fair amount.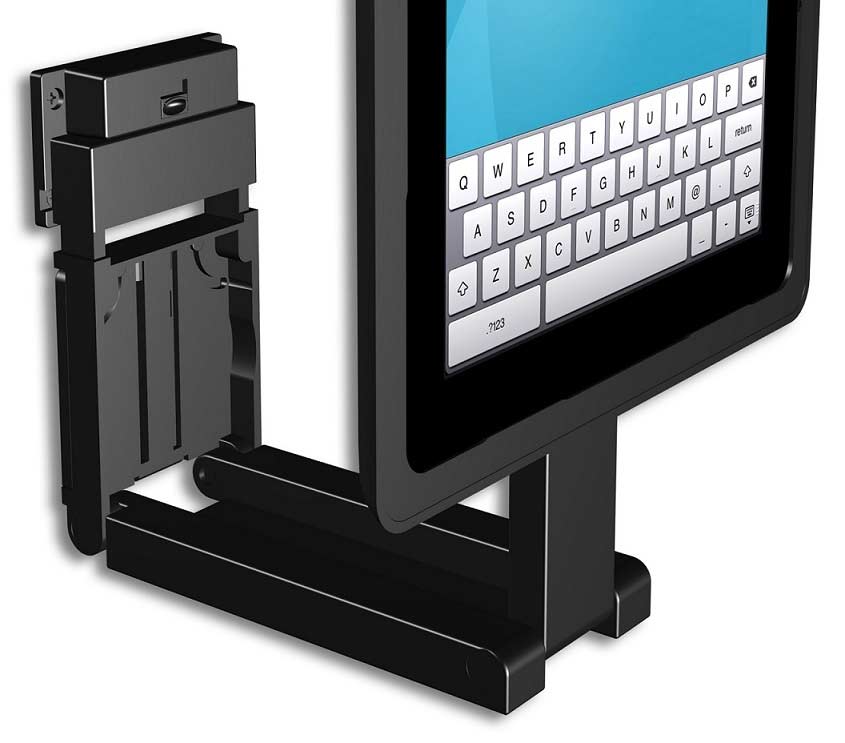 The iTrans4mer comes with a lot of mounting options
The final retail price for this thing is expected to be around $150, but if you hurry you can get it for $50. The first 2,000 get it at that reduced cost, whilst everyone else is looking at either $75, or if your'e really late to the party $100. That's before shipping costs too.
However this campaign is pretty well worked out. There's patents applied for and granted and a detailed cost break down of it all. It's about as professional a campaign as you could hope for, minus the odd bit of Chinglish.
KitGuru Says: What do you guys reckon? It seems like a pretty versatile product from the video.