Time was that if you were blind, you might have been able to figure your way around a traditional mobile phone with a bit of practice. Sure there weren't many indicators of what does what, but with a bit of tutoring from a seeing friend, you might have been able to figure it out, as you could easily feel where the buttons were, their shape and placement among the others, but touchscreens present a whole new problem. However if you happen to be blind and want a new handset, then OwnFone's 3D printed Braille phone could be just what you need.
The London based tech company already makes simplistic phones designed for the elderly and/or children, with several hard printed buttons with specific people or company's names on, letting you call them with the press of a single button. The same applies with the new Braille phone, expect it has 3D printed Braille bumps on each one, letting those with sight problems easily find their favourite – or least favourite – contacts.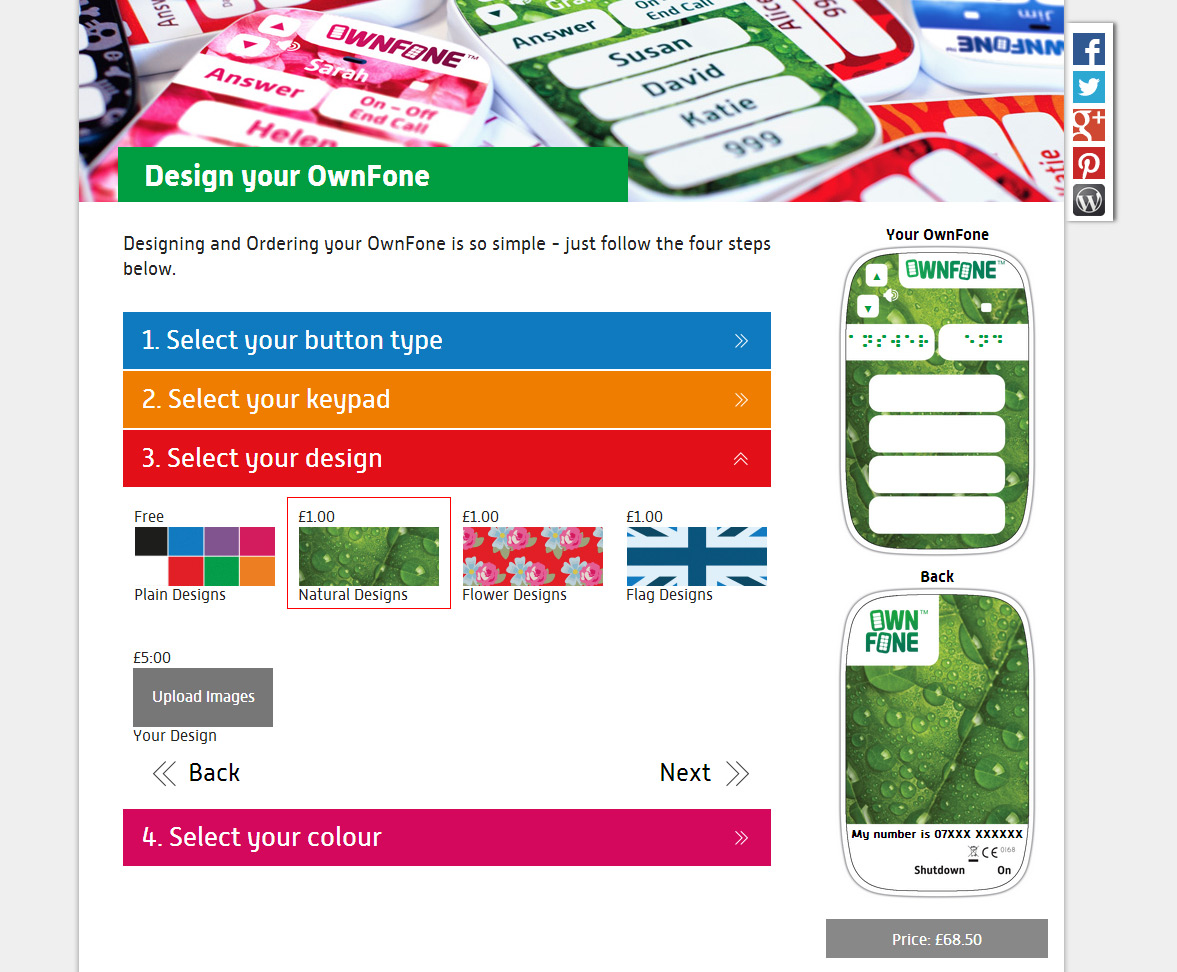 Even the blind might want some styling options. 
If you can't reach braille though, that doesn't matter either, as words or symbols can be printed on the buttons – whatever you want, and it all costs only £60. That does however only give you access to the two button version of the device. For a four button model, you'll need to shell out a few more pounds, bringing the total cost to £67.50.
It's all very easily customisable through the OwnFone site, which lets you choose the model, the colour scheme, button type – and you can even upload your own images for the phone's cover.
Contract deals aren't the most competitive in the industry, but they are simple. £10 a month gets you 100 minutes of calls, whereas £15 nets you 500. There's no need to worry about text or data as these phones can't handle it – since they don't have a display. Contracts are month on month, so you don't need to sign up for a long period, though there are discounts available for six to 12 month packages.
Discuss on our Facebook page, HERE.
KitGuru Says: This seems like a great idea for older phone users as well as the blind. And children in-fact, since it gives them the connectivity to keep in touch if they need to but doesn't let them get online without the parent's knowledge. 
[Thanks
Telegraph
]