Facebook is looking to encourage voting around the world, with the reintroduction of its "I'm a voter" button which appeared during the last national election in the US, where President Barack Obama was re-elected for his second term. At the time, some nine million people used the button to inform those around them that they'd taken the step to stamp that card. Now, Facebook is bringing it back, pledging to make the button available to citizens of the world during their national elections.
The world's second largest democratic process is coming up soon as well: the EU elections. With voting set to take place in different countries across Europe in the next few days, people across the continent will get the chance to press the button on their Facebook, letting everyone know they voted. Crucially though, it won't ask them how they voted, making it still secretive if people want it to be.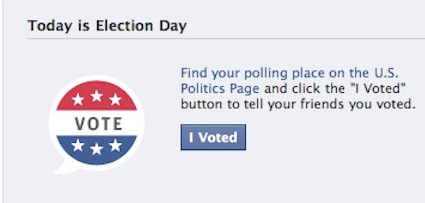 While this feature isn't going to bring millions of new voters to the fore, Reuters reports that research conducted in the wake of the last US elections, where the voter button appeared, showed some 340,000 additional votes were collected thanks to the button encouraging people to go out and cast their ballot.
KitGuru Says: While this sounds like a button for the slacktivists our there that like to tell people about important things rather than act upon them, this will no doubt encourage a bigger turnout with younger voters, which is always a good thing.