The first quarter of 2020 saw significant disruption to the worldwide supply chain, with the consequences felt across many markets. In spite of these disruptions, the market for notebook computer display panels is anticipated to see an upswing in the second quarter of this year – with an expected growth of almost 18% year-on-year.

More and more markets are making a comeback as supply lines are starting to flow as they should, and at the same time demand has increased in various sectors. At the beginning of June it was reported that Chromebook shipments are expected to increase by 32% compared to the previous year. Today, TrendForce reports that notebook computer display panel shipments are expected to grow by nearly 18% YoY in 2Q20, or a "33.6% increase QoQ".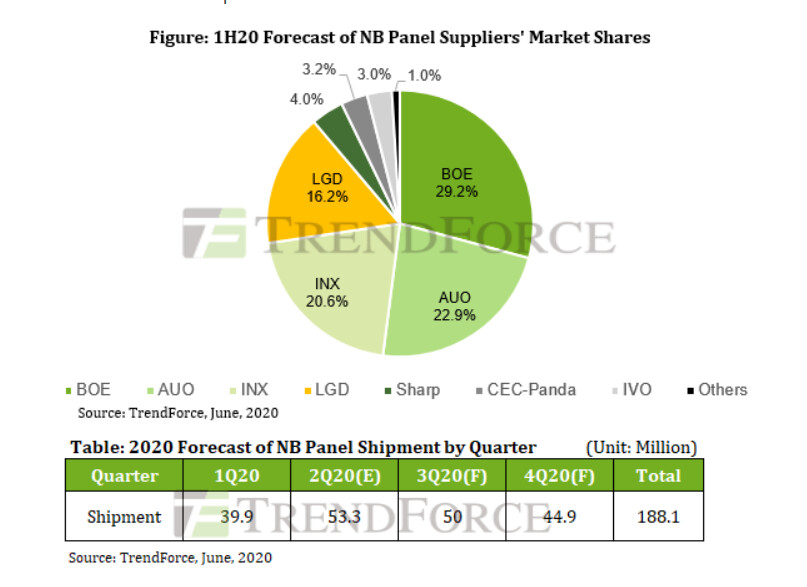 Image credit:Trendforce
The good news for the panel manufacturers doesn't stop there, as the report also mentioned that the "demand momentum [is] projected to last until 3Q20". The increased demand is mainly attributed to large numbers working from home, while many educational systems have started taking their teaching online. The report goes on to discuss how different manufacturers are working hard to take market shares as they see the shipments of panels increase.
The full report published by TrendForce can be read HERE.
Discuss on our Facebook page HERE.
KitGuru says: It's great to hear that some markets are starting to recover and even grow. Hopefully this trend will continue across the industry.