ASUS has launched its latest Republic of Gamers laptop, with ROG Chimera becoming the ROG G703. Chimera seems to be an apt codename for the device, which manages to retain both portability and high-end specs without sacrificing much but cost.
The centrepiece of the ASUS ROG G703 is its 17.3-inch IPS, G-Sync compatible display with a 144Hz refresh rate. The only drawbacks to the screen is its 7ms response time and 1080p pixel resolution, however the latter helps attain its higher than average refresh rate.
It manages to keep such a sleek framerate thanks to its Intel Core i7-7820HK CPU and Nvidia GTX 1080 GPU. Shipping with 32GB DDR4 2800MHz Memory, two 256GB NVMe PCIe SSDs set to RAID 0, with an additional 1TB HDD for more space.
The ROG G703 can house up to 64GB across its four SO-DIMM sockets, as well as more space to swap between mechanical or solid state SATA and PCIe drives, hinting that more models might eventually make their way into the market. For now, users can customise this themselves but run the risk of voiding warranty and support.
Usually, hardware like this would come at the sacrifice of cooling to save space and therefore the portability of the laptop, however the ROG G703 pushes the chassis up to 51mm thick to accommodate an elaborate cooling system instead.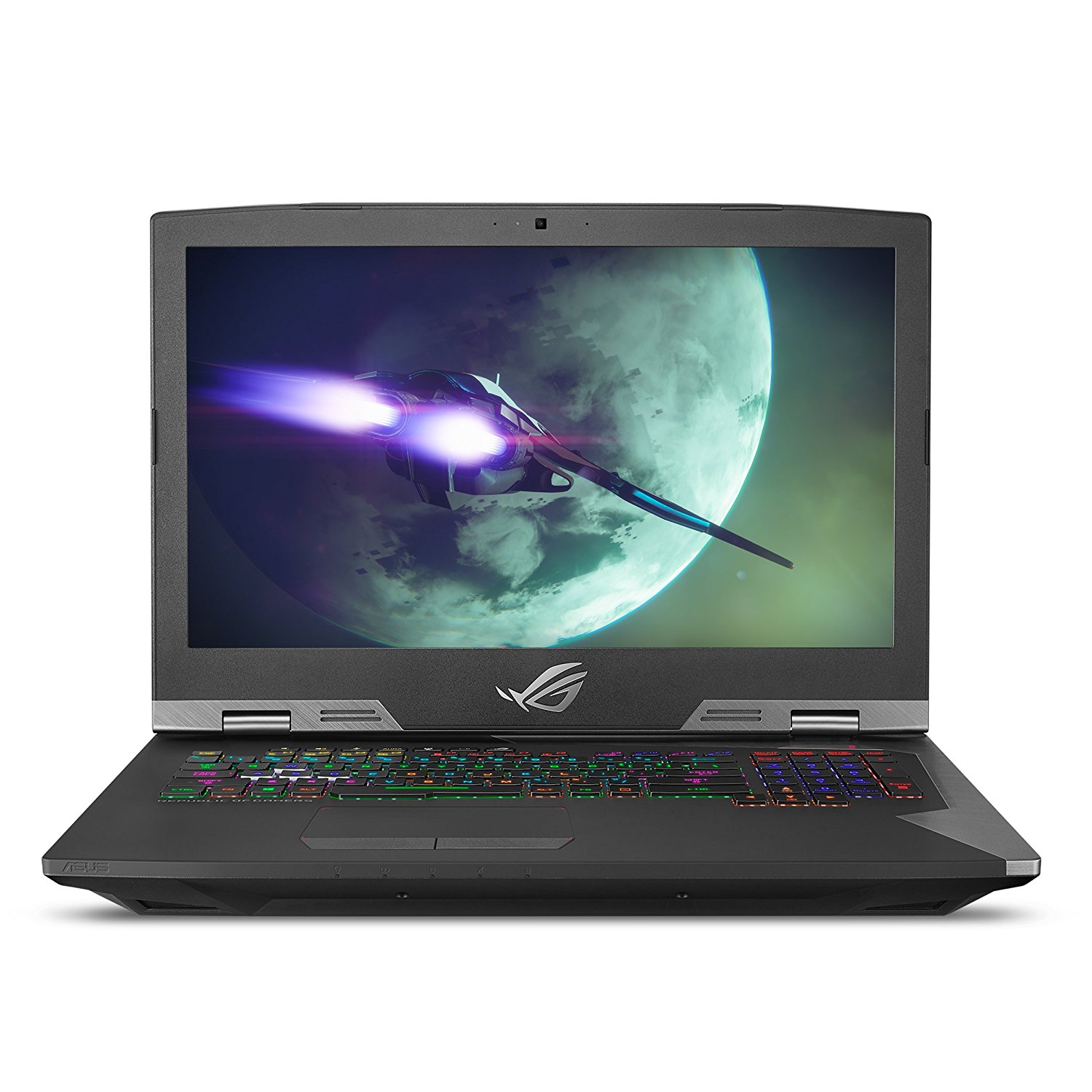 Its new patented Anti-Dust Cooling system allows ASUS to push its hardware even further, overclocking the CPU up to 4.3GHz and the GPU to 1974MHz without issue. This is achieved through two dedicated tunnels that expel dust, working with the 12V cooling fans and heatpipes to ensure that the ROG G703 stays at a decent temperature.
Other features include ASUS Aura RGB-lighting, allowing for individual key illumination, N-key rollover and anti-ghosting for its mechanical keyboard, built-in wireless Xbox One controller support, 802.11ac (2×2) Wi-Fi support, Bluetooth 4.2, DS/MMC cards, HD Web cam, 2x audio combo jacks, x4 USB 3.0 ports, a mini DisplayPort 1.4, a HDMI 2.0 port and a USB 3.1 Type-C port with Thunderbolt 3 support, which makes it compatible with most external GPU systems if users ever wanted to boost performance even further.
All of this will set you back quite a bit, as Amazon has the 32GB RAM model available for $3,499 (approx. £2,670 or AU$4,530).
KitGuru Says: They are some killer specs but with a killer price. Are you in the market for a gaming laptop? Does the ROG G703 stand out to you?