Although Microsoft has never not been a hardware company, it's software has always been its bread and butter. Its tablet drive in the early 'oos never really gathered much steam and the Zune series was hardly a game changer. However it's had much more success in recent years with its Surface and Surface Pro tablet two-in-ones, which is why it's so surprising that after announcing its Surface Pro 4 as the ideal laptop replacement, it announced a laptop of its own, called the Surface Book.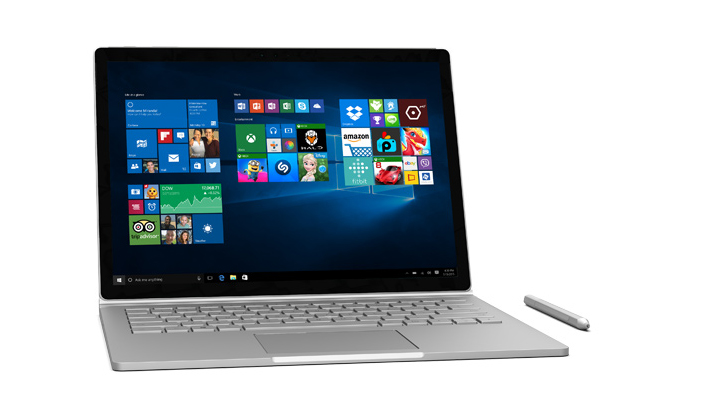 Packing a Skylake CPU, an Nvidia GPU and a 3,000 x 2,000 pixel display, the Surface Book is nothing to sniff at hardware wise. Indeed, Microsoft feels comfortable in calling it the most powerful laptop on the planet. While we would imagine a number of gaming laptop makers might have something to say about that, Microsoft claims that this 'laptop' is 50 per cent faster than the latest MacBook Pro. Despite this, the battery is said to last as long as 12 hours.
What's extra strange about this powerful sounding piece of kit, is that while it's touted as a laptop, it's just as much a two-in-one as the Surface Pro 4. It too can switch into tablet mode, detaching the keyboard – where the Nvidia GPU is housed – switching over to the Skylake CPU's on board graphical processor and allowing for a slimmer, touch screen appliance of its abilities.
[yframe url='http://www.youtube.com/watch?v=XVfOe5mFbAE']
Of course this 'laptop' is running Windows 10, and has USB 3.0 ports (though no type-C), a mini-DisplayPort and the usual headphone and mic jacks. It also supports the latest Wi-Fi standards and Bluetooth 4.0 for wireless connectivity and has a front facing five megapixel camera for video conferencing. The rear facing one is more impressive at eight megapixel and is capable of 1080P HD video recording.
Options include an i5 or i7 Skylake CPU, as well as the additional Nvidia GPU and up to 16GB of memory. Storage options are SSD only, with anything from 128GB all the way up to a terabyte of space.
No pricing or availability details have been released for a UK launch as of yet, but the starting price in US dollars is $1,500. A direct conversion plus 20 per cent for VAT puts that at a starting price of £1,180.
Discuss on our Facebook page, HERE.
KitGuru Says: Now that's a two-in-one that I like the look of. It's a shame there's no Intel RealSense camera on there to complete the package, but I certainly wouldn't mind one of these to replace my ageing laptop.