MSI will be launching the GT76 Titan laptop in the new few weeks and took the opportunity to bring an engineering sample of this powerhouse laptop to KitGuru for an exclusive sneak peek.
We previewed the GT76 Titan at MSI's HQ before Computex opened however this time we were able to take a look inside the covers to check out the massive Titan cooling system that combines aluminium, copper, 11 heatpipes and four fans.
Key features:
Latest 9th Gen. Intel Core i9-9900K processor support overclocking to 5.0GHz
Latest GeForce RTX 2080/2070 8GB GDDR6 graphics with desktop level performance
17.3-inch FHD 1,920×1,080 240Hz refresh rate IPS-level thin bezel panel
17.3-inch FHD 1,920×1,080 144Hz refresh rate IPS-level thin bezel panel
17.3-inch UHD 3,840×2,160 IPS-level thin bezel panel
Per-key RGB Backlight with SteelSeries Engine 3
Killer DoubleShot Pro (Killer Ethernet E3000 + Killer Wi-Fi 6 AX1650)
Cooler Boost Titan cooling with 4 fans and 11 copper heat pipes
Thunderbolt 3 supporting 40Gbps ultra speed data transfer
Note: if the above images are not displaying properly, you may need to disable Ad Block as it is known to interfere with our display code
Specification
CPU Intel 9th Gen. Core i9-9900K, 8 cores/16 threads
Screen 17.3-inch, 1,920×1,080 resolution, 240Hz refresh
Graphics Nvidia GeForce RTX 2080 8GB GDDR6
Memory up to 128GB DDR4-2666MHz
Storage 3x NVMe PCIe Gen3 M.2 slots, 1x 2.5-inch HDD
Audio 2x 3W speakers, 1x 3W Woofer
Ethernet Killer Doubleshot Pro
Wi-Fi Killer Wireless-AX 1650
I/O ports
4x USB 3.2 Gen2 Type-A
1x Thunderbolt 3 Type-C
1x USB 3.2 Gen2 Type-C
1x Mini DisplayPort 1.2
3.5mm Headphone jack
Micro-SD card reader
Battery 8- cell 90Wh
Power adapters 2x 230W adapters for Core i9 (1x 330W for Core i7)
Dimensions 397mm x 300mm x 33-42mm
Weight 4.5kg
There are four versions of Titan GT76 with a massive range of specifications and prices. At the bottom end of the stack we have the bargain basement (ha!) model with Intel Core i7-9750H and GeForce RTX 2070 graphics that costs a mere £2,699.
If you choose to upgrade the graphics to RTX 2080 you may prefer the version of GT76 that costs £3,599. Alternatively you could spend £3,499 and switch to a desktop chipset and Core i7-9700K CPU in combination with the RTX 2070 graphics.
The engineering sample we were shown by Natalie is the ultimate version of Titan GT76 and sports the desktop Intel Z370 chipset with Core i9-9900K CPU and RTX 2080 graphics with a price of £4,499. As Natalie explains there are a number of important features in the laptop however the Titan cooling system is critical as MSI supports overclocking for this K-series CPU. We are told the CPU can ran at 5.0GHz on all cores but frankly we have difficulty believing that claim until we get the chance to benchmark a retail version of this laptop.
Put it this way, if MSI has truly created a laptop that can run at 5.0GHz on all eight cores with sensible thermals and reasonable noise levels then we should be looking at a machine that will satisfy gamers and content creators in equal measure.
The other feature of keen interest is the 17.3-inch screen with 240Hz refresh rate which clearly will to gamers who want to get the most from the RTX 2080 graphics.
Closing Thoughts.
MSI GT76 Titan is a desktop replacement laptop with a huge specification (and price) that makes bold claims for performance, clock speed and cooling. We expect we will have a review sample in the next few weeks and cannot wait to run some benchmarks and see just what the GT76 delivers when it is pushed to the limits.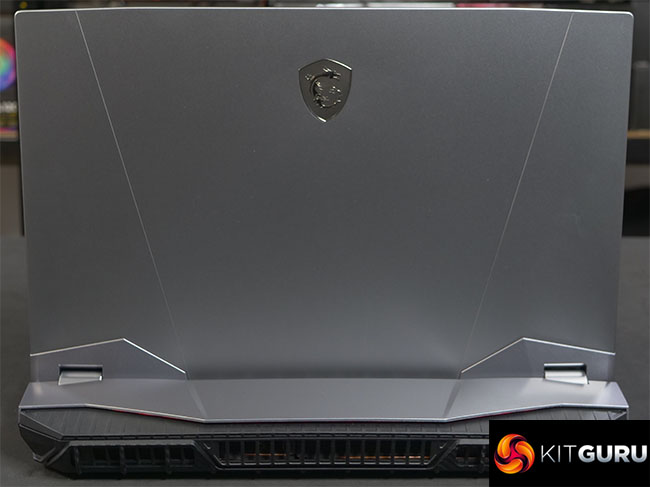 At the moment we are sceptical about the claims of 5.0GHz clock speeds for the CPU which means we will either be proved correct or we have a pleasant surprise coming our way. No matter what we find it seems that August is going to be an interesting month.
KitGuru says: MSI claims their Titan Cooler allows the Core i9-9900K to run at 5.0GHz. We cannot wait to see the Titan GT76 in action!