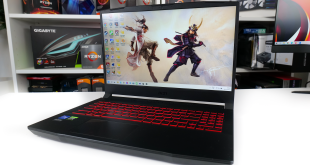 Sporting an RTX 3060 and Intel's new Core i7-12700H processor, it may come as a surprise to see the MSI Katana GF66 priced at £1399 in the UK. In fact, the GPU and CPU combination – coupled with 16GB of DDR4 memory, a 1TB SSD, and a 240Hz 1080p display – make this laptop seem like an intriguing asking price of just under fourteen-hundred Great British Pounds.
But how do MSI's overall design and connectivity choices stack up? And does the blend of hardware perform inside this 15.6"-class chassis? Let's take a closer look.

Timestamps
00:00 Start
00:53 Katana technical details
02:37 The screen
03:12 Connectivity
04:08 WiFi / Bluetooth / Webcam / Speakers
04:43 Trackpad / Keyboard
05:18 Battery / power brick
05:40 Pricing – GF66 12UE
06:16 A look at system, software and install
07:53 Power settings
09:43 Noise output
10:10 SSD performance
10:30 Battery Life
10:48 Test results
12:20 Game results
13:16 Luke's Thoughts
Edit – 9th June 2022: Our initial review coverage and video used the MSI Katana GF66 12UE-406UK model with a reference price of £1099 in the UK. Unbeknownst to us, this was a time-limited promotion for the month of May 2022. The typical retail price of the laptop has now increased to £1399.
Starting out with a look at the overall design, I wouldn't say that we are seeing anything particularly fancy from the MSI Katana GF66 12UE. This laptop takes the form of a generic 15.6" chassis – not particularly thin bezels, not particularly sleek thicknesses, and not particularly low weight.
You get a roughly 2.25kg laptop that is over an inch thick with the screen down – or about 23mm thick with the screen open. That weight may seem OK, but you have to add the best part of half a kilo for the 240W barrel-style power brick.
Sleek and eye-catching, this laptop is not, particularly with its largely plastic construction. You do get a good allocation of cooling ventilation on the side, rear, and bottom though. So, that may well appeal to a budget gaming audience more so than slick bezels and metal construction.
Primary to the under-the-hood hardware is the Intel Core i7-12700H processor. This chip features 6 performance cores and 8 efficient cores for 20 threads total. It can Turbo as high as 4.7GHz with the 35-115W rated power range, but that depends on the manufacturer's deployment, which we will analyse in this review.
You also get the Nvidia RTX 3060 Laptop GPU in its 6GB form. This is rated at 105W maximum power in MSI's deployment, according to the spec sheet. A 105W RTX 3060 should be a genuinely competent laptop graphics card, though not mind-blowing at this price point.
Memory is 2x8GB of DDR4 3200MHz, which is a cheaper option than DDR5 so is sensible from a budget perspective. And the SSD is a 1TB PCIe Gen 4 model, but there's a spare M.2 slot for upgrades.
Focusing on the screen, MSI deploys a 15.6" 1920×1080 IPS-level display. That is fine from a budget perspective, but it's the 240Hz refresh rate that will really appeal to gamers.
No, the screen quality is not the best; peak brightness is mediocre, colour quality is just decent, and the sharpness is undeniably lacking given the 15.6" and 1080p combination. But that refresh rate really does steal the show and it helps translate into an enjoyable gaming experience thanks to the fluid motion.
Looking at the physical connectivity for MSI's Katana GF66, this is another area where we see an undeniably budget feature set.
You get three USB Type-A ports, one of which is actually old USB 2.0 with the other two being 5Gbps. The single USB Type-C port is also 5Gbps and does not handle power or display output. You get Gigabyte Ethernet and 4K60 HDMI, which are good to see. And finishing off is the combo audio jack and the barrel DC power connector.
So, to summarise, there's only one USB Type-C port, no 10Gbps USB connectivity, and only a single high-resolution video output. That's pretty atrocious for anybody who wants to connect up more than just the laptop and a single display or odd few peripherals.
Clearly, Thunderbolt is missing but that's probably fair on this class of laptop. Thankfully, MSI does deploy 802.11ax WiFi 6 capability from the Intel AX201 adapter, and there's also Bluetooth 5.2.
In terms of peripherals, there is a 720p30 webcam, but it doesn't support Windows Hello and there is no fingerprint scanner. So, advanced sign-in options are limited. The speakers are a pair of 2W units which genuinely surprised me for decent punch to the bass, good maximum loudness, and solid ability to maintain decent quality at high volume outputs.
Trackpad sizing is modest for my giant hands, but the responsiveness and flow of the implementation and the solid clicky buttons were good.
The keyboard is good for my personal preference and large hands. I had very few accidental key strikes because of the sensible key pitch segregating neighbours. I also felt that the actuation point was clear and firm, which enhanced comfort. MSI includes a number pad, which I personally find pointless, but it is there.
One point is that the backlit keyboard cannot be changed away from red, but there are three steps of brightness.
For the battery, a 53.5Whr, 3-cell unit is deployed and used in combination with the sizable 240W power brick. There is no USB-C charging, even for trickle top-ups, which is highly disappointing.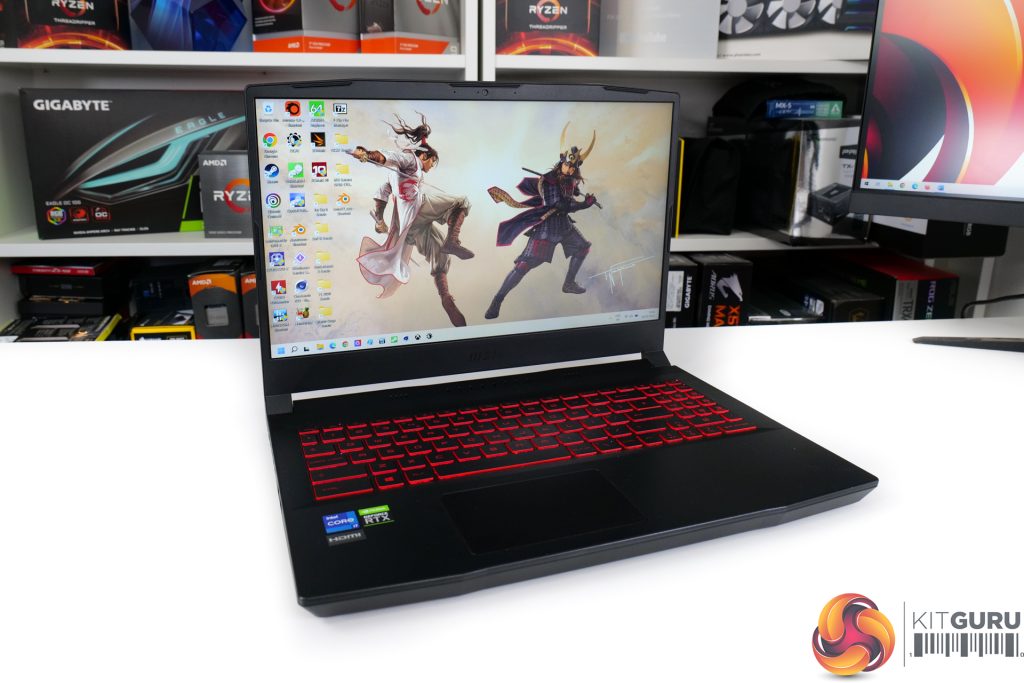 Pricing for the MSI Katana GF66 in its 12UE form as we are testing is £1399 at Currys in the UK. This gives it very tough competition on the market, with competitors from the likes of Acer, ASUS, Gigabyte, and Lenovo all offering models with 45W Ryzen chips and RTX 3070-class graphics. Let's see how the Katana GF66 fairs.
Be sure to check out our sponsors store EKWB here