Earlier this week KitGuru was invited to attend the launch event for MSI's new range of gaming notebooks.
Star of the show was the debutant GS60 which is the lightest and thinnest 15.6″ gaming notebook on the market.
But before gorging on the glamorous GS60, let's outline the key features that MSI gives its latest range of gaming notebooks.
.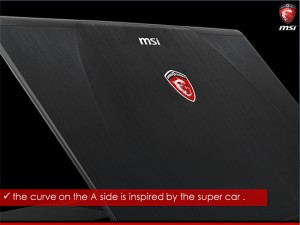 Focusing first on aesthetics, MSI has opted for a supercar-inspired curvature for the outside panel of its notebooks. Sat on the brushed-metal-appearance rear panel is MSI's logo and the symbolic Gaming Series dragon badge.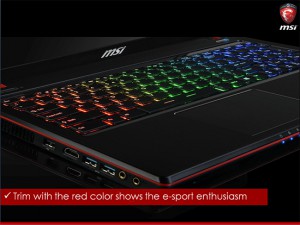 Combined with the multicolour keyboard and brushed materials, MSI uses a red border around the laptops' perimeters to add an attractive touch. Red and black is the predominant theme for all of MSI's Gaming Series products.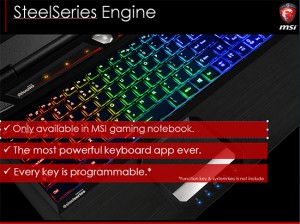 SteelSeries Engine was the first key feature that MSI was keen to outline. MSI has used SteelSeries keyboards on a number of its previous gaming laptops. Continued cooperation between the two companies sees SteelSeries Engine deployed only on MSI laptops, as of now.
In short, SteelSeries Engine is a unique piece of software that allows users to operate their keyboard in a number of different ways. For example, users can program multiple key actuations into a single, user-definable hot key (choosing from any key on the keyboard), rather than rely upon a specialised macro key. MSI said that there is an effectively limitless number of key links – over 100 key inputs can be tied into a single hot key actuation.
Aside from NKRO of around 8-10 keys in the left-hand – 'business' – side of the keyboard, another useful feature of SteelSeries Engine was its text macro. Gamers can assign text messages to certain keys, allowing them to communicate quickly in the heat of battle. SteelSeries Engine truly is a powerful keyboard app – up to 4 different virtual keyboards with their own hot keys can be accessed, with the coloured backlight helping outline which keyboard is currently active.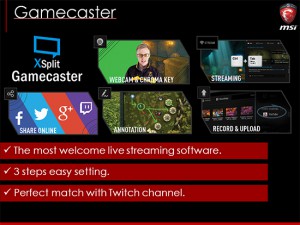 Gamecaster is a new feature for MSI's gaming laptops. Designed to offer enhanced ease-of-use over alternative streaming solutions for TwitchTV, a 6-month XSplit Gamecaster license is included with MSI gaming laptops. We were also told that MSI is currently working on further agreements with XSplit for deals with its licensing.
It's refreshing to see a company understand how the gaming scene is changing and to adapt its products alongside those changes. Including an XSplit Gamecaster license is just one example of how MSI is currently 'moving with the times' with its new line-up of gaming laptops.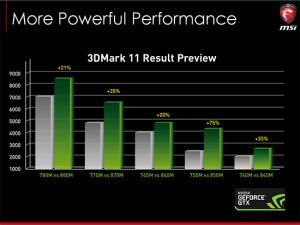 Now where would a gaming machine be without the all-important hardware at hand? MSI's 2014 line of gaming laptops use the latest-and-greatest in Nvidia GTX 800 series mobile GPUs. Common across many of the models was the well-balanced, Maxwell-based GTX 860M. The flagship GTX 880M also makes an appearance alongside other members of the 800 series armada.
SuperRAID continues its operation in MSI notebooks. Up to three SSDs can be utilised in RAID-0 configuration in some of the higher-end laptops. And that's alongside a 2.5″ storage drive (or two on certain models). Dynaudio continues to provide sound for the notebooks, while Killer is used for LAN and, on some models (namely the GT), WiFi. And talking of WiFi, MSI is clearly making the push towards the 802.11ac standard, as proven by its support on many of the models.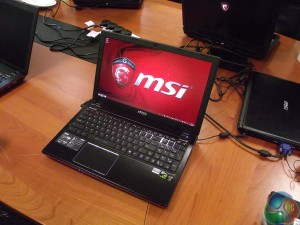 Processor-wise, Intel's Core series chips are touted in a number of flavours. The model shown above (MSI GE60) utilises an i7 4700HQ processor with 8GB of memory. 1920 x 1080 seemed to be the new baseline for all of the gaming notebooks, throwing 1600 x 900 out of the picture on the way.
Later this year, there will also be the option for more models featuring a 15.6″ version of what MSI calls its 3K display – an eye-watering 2880 x 1620 resolution on a wide viewing-angle IPS panel. When asked about the possibility of G-Sync, MSI said that it was considering the option and hoping for progress towards Q4 2014 – the panels are currently very difficult to acquire.
Moving on to the undeniable star of the show, MSI's GS60 is the world's slimmest and lightest 15.6″ gaming notebook. Based on the ease at which I held this system in one hand, it really is a truly portable gaming notebook. To put the sub-20mm thickness into perspective, many smartphones are around 10mm-thick, and they aren't packing a GTX 860M.
MSI alloys Lithium with Magnesium to achieve a 23% weight saving over a Mg-Al alloy, with 44% improved strength. It's this strong, lightweight alloy that allows the GS60 to meet its weight targets with the required toughness.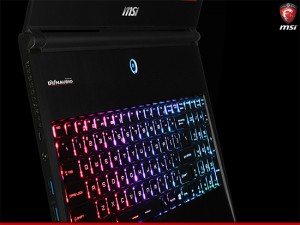 Sleek in all senses of the word, MSI's slim and light GS60 is no slouch either. Under the hood is an Intel i7 47xx processor partnered with a 2GB GTX 860M. Up to two M.2 SSDs can be housed in the GS60, alongside a single 2.5″ storage drive. A Killer LAN chip is used alongside a 2×2 802.11ac Killer WiFi adapter. The notebook's nominal resolution is 1920 x 1080, although a 3K model is also in the works. Pricing looks to be around £1299.
When asked about battery life, MSI told us that the GS60 should be good for approximately 4 hours of web browsing. I was also keen to understand how MSI dealt with the cooling requirements – the product managers told me that they used their previous experience (presumably from the slim GS70 and other Nvidia-based notebooks) to combat cooling issues.
Jokes of grabbing the GS60 and making a run for it aside, the notebook's petite and attractive design are likely to bring it a large amount of attention in the coming months. And rightly so – it really is a gorgeous system and seems to be very well designed.
Discuss on our Facebook page, over HERE.
KitGuru says: An impressive 2014 line-up for MSI's Gaming notebooks. We look forward to getting some of these into the lab and putting them to the test.