Earlier this week, Nvidia officially launched the GTX 1660Ti and GTX 1650 graphics chips for laptops. We've already seen several models sporting these new GPUs from the likes of MSI, ASUS and Acer. Now, GIGABYTE is joining the club with two new laptop launches, the AERO 15 Classic and the Aorus 15.
We'll start off with the Aero 15 Classic. This laptop sports an all black, understated design and is equipped with a top-end Intel Core i9-9980HK processor. This is the first eight-core mobile CPU from Intel, with a boost speed capable of reaching 5GHz under the right cooling conditions. This laptop is built around utilising as much Intel hardware as possible, so it also inclues a 760p SSD, Thunderbolt 3 and Intel-based Killer 1550 Wi-Fi.
Earlier this year, Gigabyte debuted its first laptop featuring Microsoft Azure AI to manage system power management- that feature is returning here. Beyond that, Gigabyte has worked on making some incredibly high refresh rate displays for these laptops, going all the way up to 1080p at 240Hz.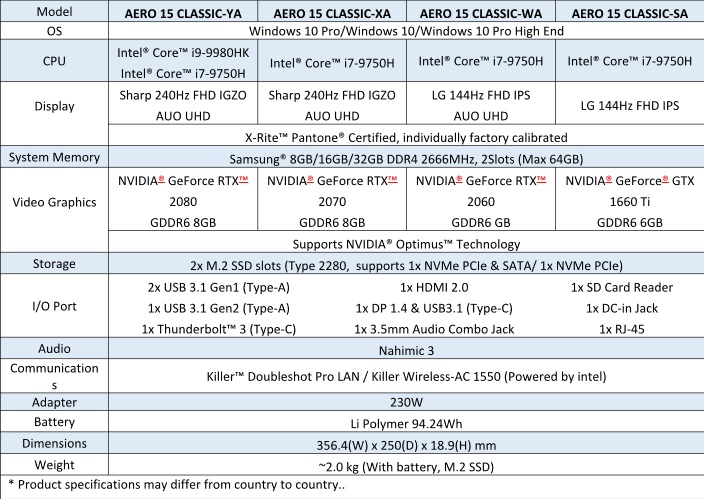 There are four different versions of the Aero 15 Classic with different specs, ranging from 9th Gen Core i7 to Core i9. There is a range of GPU options too, with the GeForce GTX 1660Ti at the bottom, going all the way up to an RTX 2080. You can see the full spec of each model in the image above.
The AORUS 15 aims to offer the best performance in a laptop less than an inch thick. As you can see,, the Aorus has a very different design, although it still looks quite sleek. This laptop comes packed with two extra-large, 71-blade fans and individual heat pipes for the CPU and GPU, with airflow channelling through nine intake/exhaust vents.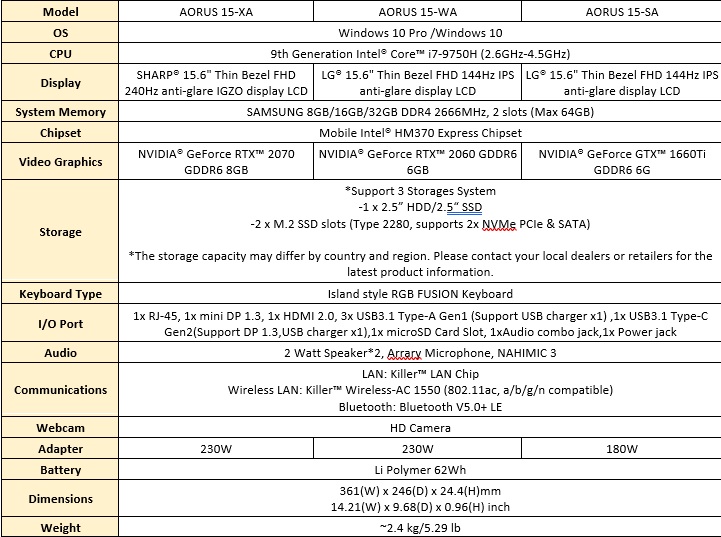 As you would expect, the Aorus 15 also makes the jump to 9th Gen Intel processors. While there are multiple models for this laptop, the Core i7-9750H can be found inside all of them. The main difference here will be the display and the GPU, with a GTX 1660Ti and a 1080p/144Hz display coming in the entry level version and an RTX 2070 with a 240Hz display in the flagship model.
KitGuru Says: We've seen some good looking laptops following Intel and Nvidia's recent launches. Personally, the Aorus 15 might be my favourite looking one so far. Are any of you planning on picking up a new laptop this year? Have you got your eye on a particular model?