It looks like Samsung was right to avoid using Qualcomm's Snapdragon 810 SoC in its recently announced Galaxy S6 flagship as new benchmarks of the HTC One M9 are showing that the Snapdragon 810 chip is in-fact overheating under load.
Dutch site, Tweakers, managed to get their hands on a HTC One M9 and ran the benchmark GFXBench, then measured the heat output of HTC's latest device, sporting the Snapdragon 810, in comparison to other competitors on the market, like the iPhone 6 Plus, the HTC One M8 and the LG G3.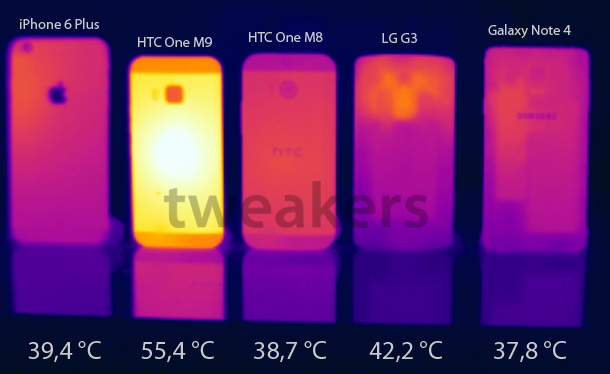 Image Source: Tweakers.
As you can see, the One M9 is running at more than 15 degrees higher than last year's One M8, managing a heat output of 55.4 degrees Celsius. Obviously a device is expected to run a little hotter while running a benchmark but as you can see, there is still a pretty big heat difference between the Snapdragon 810 and the chips used last year.
That said though, the HTC One M9 has yet to be officially released, so the model used in this test is bound to be running pre-release software. The final launch version may not necessarily face this issue, although considering the concerns of both OnePlus and Samsung, it is possible that the One M9 will run hotter than other devices, despite any software improvements.
Hopefully these tests will be revisited once the HTC One M9 is officially out, then we will truly know if the Snapdragon 810 is cause for concern.
Discuss on our Facebook page, HERE.
KitGuru Says: The device in these tests is bound to be running pre-release software, so while these results are a little alarming, HTC may have it fixed before the device officially launches.
Source: Tweakers